Author: Daniel S, PhD; Last update: April 22nd, 2021
Dear Friends,
Below, I would like to share with you research related to a plant extract that based on academic research and clinical evidence, has good anti-cancer potential. I hope this information will help some people. I performed additional research and found how this plant extract can be obtained and used, which turns this post into actionable information.
As reminder regarding treatment options discussed on Cancer Treatments Research, even if they are promising, I do not recommend to drop conventional treatment methods and completely rely on alternative or new treatment options. Instead, I believe we need to take the best from every area including, conventional, traditional and academic.
I also like to take the opportunity for a kind reminder: All the content and the questions I answer require intensive research. That is the time of my life that I give it to you. If you appreciate this, please don't forget to support the continuity of this website. You can offer your support with a Donation that I will use to pay the security, maintenance and web-storage of this website (high number of visitors and visits means higher costs). 
Another way for you to help is by buying your food supplements at MCS Formulas, where we design some most outstanding food supplements in terms of active ingredients, purity and absorption, and shipped all over the world ultrafast with FedEx. Or please help by letting others know MCS Formulas exists.
I am also happy to let you know that we are working hard at MCS Formulas and that delivers great results:
A few months ago we release the best Genistein supplement available in the World in terms of amount of active  ingredients in a capsule (250mg of Genistein 98%), with improved absorption and no additives.
Currently we are formulating what will be the best Boswellia supplements available (highest amount of AKBA & pro-liposomal in capsule with raw material supplied by Sabinsa Corp.) and the best formulation of Berberine (pro-liposomal in capsule with raw material supplied by Sabinsa Corp.). Again, these will have no additives. These products will be available in about a month.
Thank you in advance for your support!
If you like the content below, please share. One click for you to share this post could mean saving someone out there. 
Introduction
Rhus Verniciflua Stokes (RVS), also known as lacquer tree and toxicodendron vernicifluum, is an indigenous Asian plant used in traditional Korean medicine since ancient times. It has been used mainly for the treatment of gastrointestinal diseases (gastritis, gastric cancer, and atherosclerosis since ancient times) (Ref.).
Next to the gastrointestinal diseases, Rhus Verniciflua has also been used as:
pain killer
to stop cough 
to stop bleeding
anti parasite
antibacterial
anti fibrogeninc
antiviral (Ref).
In line with the traditional use, recent academic research has revealed that the extract of R. verniciflua has various therapeutic potential including anti-proliferative, anti-inflammatory and antitumor activities (Ref.1, Ref.2, Ref.3).  This makes very much sense, since RVS contains a wide variety of flavonoids and polyphenols that are known to present outstanding health benefits. These compunds include fustin, fisetin, quercetin, butein, p-coumaric acid, kaempferol, sulfuretin, catechol, and ethyl gallate. Of these, gallic acid, fustin, fisetin, quercetin, butein, and sulfuretin are the main active constituents of R. verniciflua. (Ref.).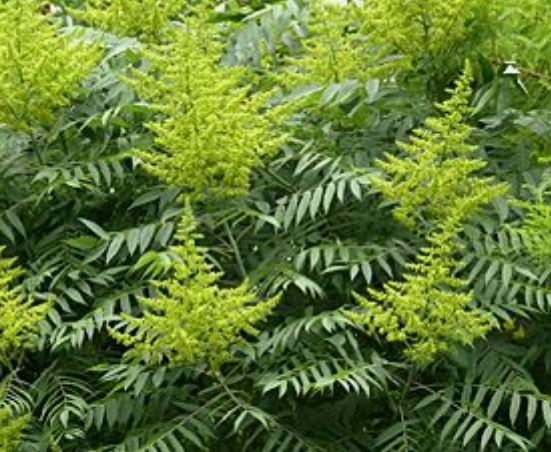 RVS also contains another component called urushiol, known to cause allergies. This is why, RVS cannot be used as is – urushiol should be removed before using RVS as a food supplement or medicine.
Butein seems to be the extract out of RVS responsible for its anti-ulcerative effect, reducing elevated cytokine levels such as TNF-α and IL-1β in gastric tissue (Ref.). Butein reduces histamine synthesis and anti-inflammatory response by the inhibition of lipid peroxidation.
Regarding the anticancer activity of RVS, it is not exactly defined which extracts are the most relevant. Some believed that it is the synergy between the active compounds in RSV that is responsible for the anticancer effects. Nevertheless, Butein stands out also here, as it has been shown to downregulate COX-2 expression in cancer cells and suppress cancer cell micrometastasis by inhibiting fibroblast formation (Ref.1, Ref.2). The extract as a whole, on the other hand has been shown to have antiangiogenic activity by inhibiting VEGF and the matrix metalloproteinase-2 (MMP-2) and MMP-9 activities in a human fibrosarcoma cell line (Ref.).
Therefore, the anti-cancer mechanisms related to RVS are various (Ref.1, Ref.2, Ref.3) including e.g. tyrosinase inhibitory effects (Ref.) and anti-angiogenesis (Ref.). However, a very interesting result in my view is the fact that RSV has been found to be effective at blocking the PD-1/PD-L1 and CTLA-4/CD80 interactions (Ref.). 
While based on the clinical evidence the outstanding anticancer effects of RVS seems to be in fighting gastric, renal & lung tumors (primary or metastasis), Rhus verniciflua Stokes has shown potential against multiple types of cancer:
Case Reports in Humans
Rhus verniciflua Stokes has been tested for its potential in human subjects. Most of these studies have indicated the safety and efficacy of Rhus verniciflua Stokes. For example, here is a study indicating that RVS can prolong the survival of pancreatic cancer patients (Ref.).
In order to highlight the potential behind RVS, below I would like to list several case reports published in the scientific literature, some of which have reported even complete remissions:
Case 1: Gastric Cancer
82-year-old female gastric cancer patient case, orally administered Rhus verniciflua Stokes decreased the polypoid mass at the mid body and a slight decrease in the flat elevated lesion at the prepyloric antrum at 5 months after starting daily therapy with 900 mg (Ref.).
Case 2: Hepatocellular Carcinoma
62-year-old Korean male patient with recurrent hepatocellular carcinoma after liver transplantation refractory to doxorubicin exhibited shrinkage of the lung metastasis, nonhematologic toxicity at 5 months after receiving Rhus verniciflua Stokes 3 times a day with 450 mg being orally administered (Ref.).
Case 3: Renal Cancer
50-year-old man with unresectable metastatic RCC patient refuses immunotherapy. Instead, he starts treatment with aRVS extract 450-mg capsules orally three times a day. After 4 months of treatment, CT scan showed a complete response in all pulmonary metastases including resolution of right pulmonary artery thrombosis (Ref.). Please see below the figure showing: Computed tomography (CT) scan before allergen-removed Rhus verniciflua Stokes (aRVS) treatment (B) CT scan 4 months after RVS treatment.
Case 4: Renal Cancer
"A 47-year-old man with multiple pulmonary nodules had a left radical nephrectomy for a 6.3-cm mass conducted on him, the clear cell type of RCC (Fuhrman grade III), in September 2006.
Follow-up CT scans showed aggravation of the metastases in both lungs, and a newly developed left hilar lymph node enlargement and a right adrenal mass, and he started palliative sunitinib 50 mg/day from March 2007.
After 2 months, metastases in the lungs and right adrenal grand were larger, and a new left adrenal mass was found (Figure C). The sunitinib was stopped, and he refused further conventional therapy.
In June 2007, an exploratory laparotomy was conducted for jejunal intussusceptions, and the histologic examination revealed multiple intraluminal polypoid metastatic RCC lesions.
Treatment with RVS extract 450-mg capsules orally three times a day was initiated in July 2007 after his informed consent.
After 9 months of RVS therapy, a chest CT scan showed the resolution of the masses, noted previously in the left upper lung (Figure D).
After 13 months of RVS therapy, a CT scan showed significant reduction in the size of the metastatic masses in both adrenal glands.
No evidence of disease was found in CT scans obtained 29 months after the initiation of aRVS therapy." (Ref.).
Case 5: Rectal Cancer
57-year-old Asian male with lung metastases from rectal cancer
six cycles of adjuvant chemotherapy –  lung metastases were confirmed about one year later
palliative chemotherapy was begun, but his disease continued to progress after three cycles and chemotherapy was halted
start treatment with herbal medicine-standardized allergen-removed Rhus verniciflua stokes extract combined with Dokhwaljihwang-tang (Sasang constitutional medicine in Korea)
After seven weeks of herbal medicine treatment, the lung metastases were markedly improved
Regression of lung metastases has continued; also, the patient's rectal cancer has not returned
He has been receiving herbal medicine for over two years and very few side effects have been observed
Case 6: NSCLC 
"A 52-year-old female was diagnosed with pulmonary adenocarcinoma accompanying malignant pleural effusion confirmed by histologic examination in August 2006.
One month later, CT scans showed an aggravation in malignant pleural effusion. She strongly refused recommended chemotherapy because of concerns about adverse effects. Instead, only RVS treatment was initiated in October 2006.
After 1-month RVS treatment, CT scans showed marked decrease in pleural effusion and no interval change in mass. There was no significant change in tumor and pleural nodularity in a chest CT scans until January 2009.
After progression of her disease, she was enrolled in a clinical trial (erlotinib) at other hospital in July 2009 and was lost to follow-up.
Adverse effects from 34-month RVS treatment were not observed."
Case 7: Gastric Cancer (Adenocarcinoma of the Ampulla of Vater)
73 years old and was diagnosed with adenocarcinoma with invasive pancreas (pT3N0 M0; IIA) in June 2010
She underwent pylorus preserving pancreatoduodenectomy (PPPD)
Follow-up CT scans in February 2011 revealed newly developed peritoneal seeding and local tumor recurrence
patient and her family refused palliative chemotherapy because of old age and poor performance status
patient starts on RVS only since March 2011
Follow-up CT scans in July 2011 showed a decrease (12 mm ← 20 mm) in the recurrent mass in the superior mesenteric artery lesion and disappearance of the right side mesenteric mass (32 mm) and peritoneal nodules.
PET-CT scans in February 2012 revealed complete remission
Case 8: Gastric Cancer (Adenocarcinoma of the Ampulla of Vater)
35-year-old patient with liver metastasis from AAV
underwent six cycles of treatment with oxaliplatin/capecitabine and achieved complete response of the liver mass and stable disease in the ampullary mass
the patient stopped his treatment because of thrombocytopenia and neuropathy from chemotherapy
he starts RVS treatment since August 2010
After three months of only RVS treatment, the ampullary mass completely disappeared
Follow-up CT scans in July 2011 showed no evidence of tumor recurrence
Safety
Do not use RVS that doesn't have urushiol removed, since this triggers allergic reactions.
There were no significant adverse effects at the doses used in the clinical studies referenced above, where RVS without urushiol has been used (Ref.).
May contribute to herb-drug interactions when orally coadministered with drugs metabolized by CYP2C9, CYP2C19, and CYP1A2 (Ref.).
Source
Extract from Rhus Verniciflua Stokes free of the compound causing allergies (urushiol) seems to be found in Korea, as powder or as a liquid extract.
The liquid extract seems to be easier to produce and therefore cheaper. Following the request of a reader of this website (Ref.), I contacted a friend of Korean origin and she kindly searched and succeed to find a source in Korea. She also kindly agreed to share her e-mail address here for those that would like to get information about the supplier in Korea who is a scientist, to my understanding. Her e-mail address is ahn.rhus (at) gmail.com
Please note that I have nothing to gain from sharing the source here other than trying to help and like all the info shared on this website, it comes with the disclaimer.
If you find other reliable sources for RSV please share them in the comment section below. It seems RSV without urushiol is often used in Korea as a food supplements so it should not be very difficult to find it at other sources.
Application
Application of the extract is fully disclosed in the articles I shared above.
Powder form: Typically used in the case reports presented above – in most cases it has been used 450 mg capsules 3 times a day, being orally administrated. 
Liquid form: Based on private communications, the typically available solution/concentration is being used at 1 ml/kg of body weight daily (max 80ml/day) when the patient is NED, and at about 2 ml/kg daily (max 150ml/day). Of course this dose depends on the concentration and it has to be provided by the manufacturer.
All food supplements you need, delivered fast all over the World with FedEx. High amount of active ingredients, purity and fair prices.
References
Integrating Traditional Medicine into Modern Inflammatory Diseases Care: Multitargeting by Rhus verniciflua Stokes https://www.hindawi.com/journals/mi/2014/154561/
Rhus verniciflua Stokes extract as a potential option for treatment of metastatic renal cell carcinoma: report of two cases https://www.annalsofoncology.org/article/S0923-7534(19)39314-7/fulltext
Impact of standardized Rhus verniciflua stokes extract as complementary therapy on metastatic colorectal cancer: a Korean single-center experience https://pubmed.ncbi.nlm.nih.gov/19679623/
Rhus verniciflua stokes against advanced cancer: a perspective from the Korean Integrative Cancer Center https://pubmed.ncbi.nlm.nih.gov/22174564/
Impact of Standardized Allergen-Removed Rhus verniciflua Stokes Extract on Advanced Adenocarcinoma of the Ampulla of Vater: A Case Series https://www.ncbi.nlm.nih.gov/pmc/articles/PMC3654714/
Efficacy of Chemotherapy Integrated With Traditional Korean Medicine in Patients With Metastatic Pancreatic Cancer: A Single-Center Retrospective Study https://journals.sagepub.com/doi/full/10.1177/1534735420983457
Comparison of the main components and bioactivity of Rhus verniciflua Stokes extracts by different detoxification processing methods https://www.ncbi.nlm.nih.gov/pmc/articles/PMC6118002/
Disclaimer
This site is not designed to and does not provide medical advice, professional diagnosis, opinion, treatment or services to you or to any other individual. Through this site and linkages to other sites, I provide general information for educational purposes only. The information provided in this site, or through linkages to other sites, is not a substitute for medical or professional care, and you should not use the information in place of a visit, call consultation or the advice of your physician or other healthcare provider. I am not liable or responsible for any advice, course of treatment, diagnosis or any other information, services or product you obtain through this site. This is just my own personal opinion regarding what we have learned on this road.
Please read an extended version of the Disclaimer here: https://www.cancertreatmentsresearch.com/?page_id=1794
Related Articles