Author: Daniel S, PhD; Last update: January 31st, 2021
First, An Update
Dear Friends,
Coronavirus took a lot of our attention lately (Ref.1, Ref.2), and probably we will address it more in the future as it is important for all of us to be aware of ways to address it if needed. I think we do have a good idea now on how to respond to it, and as we've seen most of the drugs and supplements relevant for the fight against Coronavirus are also those relevant against cancer, many of which we have discussed for years on this website.
I know it is so difficult for the cancer patients during these times, as it is more challenging to have the required medical attention and more difficult to obtain the required drugs.  If there is anything positive in all this mess that Coronavirus created around the world taking the life of so many people and reducing our access to medical care, is that as we move forward the awareness and openness of the society towards accepting and implementing fast repurposed drugs is much higher now.
It is now becoming clear for all why we, the oncology patients and care-givers and all the innovative scientists and medical doctors, have investigated and promoted so much the use of re-purposed drugs in oncology. They see how repurposed drugs such as Hydroxychloroquine can save life of Coronavirus patients, as we knew the same drug (and other re-purposed drugs) could save life of cancer patients. So let's hope that this mess created by the Coronavirus will finally lead to a better world for the cancer patients.
With this post, I would like to share with you a view on  how to modulate the intra-cellular level of Anti-Oxidants and Pro-oxidants as a strategy to fight cancer. I will discuss re-purposed drugs, supplements, chemo- and radio-therapy.  As a result, the focus of this post is on increasing pro-oxidant level in cancer cells to fight cancer.
Before going to the main subject of this post, I would also like to take the chance to update you on what I was (and I am) working on during the past months and the related results.
In order to be able to move things forward I had to temporarily slow down in writing posts on this website. While I wish I could write more, and I have a lot to say, there are only 24 hours/day and nearly every day, about 17 of those I allocate to moving forward the Blog, the Foundation and the Food Supplement Company. I am glad to say that on all lines there is very nice progress:
The Blog: next to all the daily communication mostly on the e-mail with people fighting cancer, since recently we have a new section to this website entitled "View in Oncology". This is a section dedicated to scientists and clinicians, who have to share with the World unique views that add important value to our goal: to improve and extend life of cancer patients. During the past months, we already had two authors published in this section, and there will be more to come soon from valuable experts in the field. .
.
The Foundation: there are two major projects running in the non-profit organisation MCS Foundation For Life: one project is on proton pump inhibitors as a way to fight cancer and another on glycolisis inhibitors to fight cancer. I will detail them as soon as I find the time at www.mcsfoundationforlife.com. I am glad to say that along these projects we recently succeed to have a new scientific paper published in collaboration with scientist, some working on this subjects for more than 30 years. Here is the paper recently published A New and Integral Approach to the Etiopathogenesis and Treatment of Breast Cancer Based upon Its Hydrogen Ion Dynamics. With this, for the first time, the name of the Foundation is on a scientific paper. In addition, in the project along the glycolisis inhibitor line we are now interacting with important scientists and contributors in the field of transnational medicine, representing some of the best medical schools in the world, with the goal to move metronomic 2DG to clinical trials. Moving to clinical trial takes time, specifically when there are financial limitations, but the project is moving forward and that is very important.


.

The Supplement Company: As you know, my goal is to put in place a successful food supplement company that could offer valuable products to people. Even more important is that with such a company we can allocated a major part of the profits back to projects that can improve and extend life of cancer patients. Probably a lot of this will go in re-purposed drugs and natural extracts for oncology, that can be implemented on short term. There are so many academic discoveries that are not reaching patients just because there is no business sense behind. Imagine how beautiful would be to have a large company that gives a large part of its profits to support the translation of valuable academic discoveries to people! How great it would be when the whole registered community here and those people buying the supplements can decided where to inject those money! That is what we are going to have and I am working on intensively on the start-up (with a few other colleagues driven by the same goal) – I promise in April/May the company will be up and running. With that, we will be able to do so much more towards improving and extending life of cancer patients, and in that process we will involve the community here.
.
In line with the foundation, the name of the food supplement company recently established is MCS Formulas.

.
This was the short update from my side. Now I'll move to the main subject of this post:
Why and When Up-regulating Pro-Oxidant level in Cancer Cells Makes Sense
The strategy I will discuss below is part of the strategy-series that I started publishing at the end of last year, and intend to continue addressing throughout the coming year. These strategies are focused on addressing weak points of cancer cells.
As a reminder, at the end of last year, we discussed about the strategy focused on "shutting down" the two engines responsible for energy production in cancer cells: Shutting Down The Power House of Cancer. This could be one way to fight cancer with on a cocktail of drugs and supplements, as a stand alone strategy or as support for other core treatments.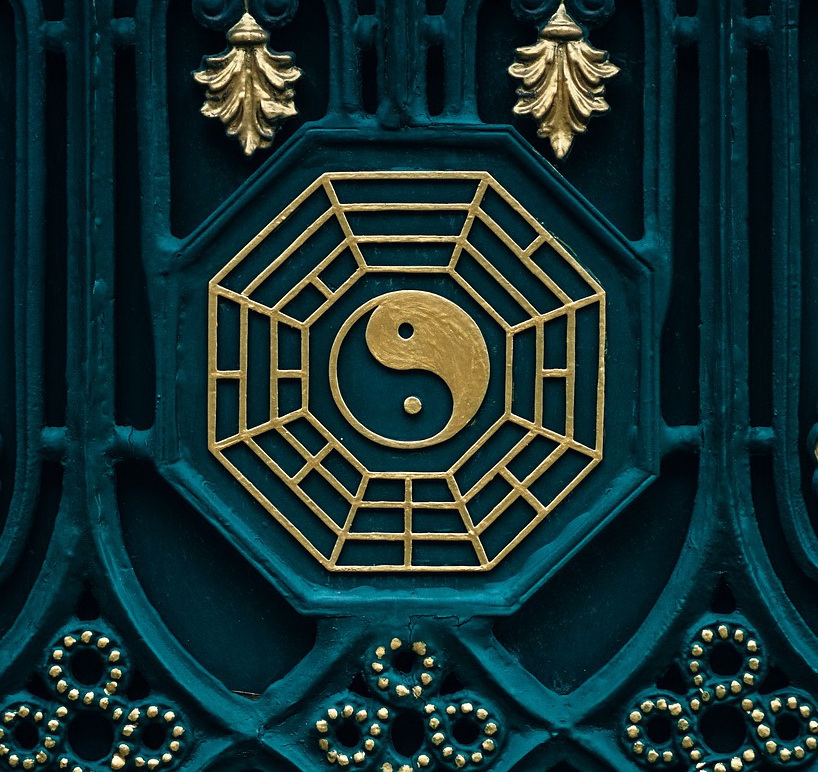 Another important weak point (or bottleneck) of cancer cells is related to the balance of anti-oxidant/pro-oxidant level inside the cells, or as mentioned in the title: "the Yin and Yang energy of the cell".
Essentially, anti-oxidants are electron givers/donors and pro-oxidants are electron receivers/takers. That is the whole difference between the two. A good balance of the givers and the takers inside cells, ensures normal survival of the cells regardless if we speak about cancer or normal cells. However, the difference between normal and cancer cells is that the population of givers and the takers is much higher in cancer cells.
The pro-oxidants, or the takers, are also called Reactive Oxygen Species, on short ROS. All living cells generate ROS while metabolizing oxygen. ROS generated during the normal life of a cell are e.g. superoxide, hydroxyl radicals, hydrogen peroxide. Therefore ROS generation is an integral part of normal cellular function, and ROS such as hydrogen peroxide (H2O2) are involved not only in immune response and oxidative stress, but also as a physiological influence of essential cellular processes (Ref.). Thus, ROS is good in normal amounts.
However, in high amounts ROS can damage and even destroy the cell. So like everything in life, too much of something is not good. When too much ROS is present in the cell, in order to protect the cell, a regulator is activated called Nrf2. This, in turn, up-regulates the anti-oxidant cell defence system that can deactivate ROS. The anti-oxidant cell defence system includes anti-oxidants such as Glutathione, Thioredoxin, Catalase and others that are listed in "Details" section at the end of this post.
Due to various reasons specific to tumors (including increased metabolic rate, tumor hypoxia, lower pH), production of ROS is elevated in malignant compared to normal cells. In order to cope with this and insure their survival, tumors upregulate levels of antioxidant enzymes and successfully counteract increased oxidative stress (Ref.), which would otherwise lead to chain reactions in lipid layers, and damage DNA repair enzymes (Ref.). Therefore, same as in normal cells anti-oxidants protect cancer cells, helping their continuity and resistance to conventional treatments.
As a side but important note, I would like to mention that some experts in integrative oncology see high intracellular ROS at the origin of cancer and not the outcome of cancer. Along that line, it is proposed that ROS is mainly generated by not properly functioning mitochondria. Going further, it has been argued that restoring the normal function of mitochondria could help turn cancer cells into normal cells. In my view, this is a relevant perspective to consider, that can take us towards another strategy to fight cancer, specifically focused on antioxidants, which I intend to address in another post.
In my view, both pushing up the anti-oxidants or pushing up the pro-oxidant level can be a way to fight cancer, as long as we do that in a consistent manner. Therefore, in another post, I will discuss why fighting cancer with anti-oxidants makes sense as well and can be a powerful approach. 
Yet, in this post, I would like to build on the fact that due to various reasons mentioned above, in tumors the level of ROS is high and that is pushed to even higher levels when patients undergo pro-oxidant treatments such as chemo- or radio-therapy. This makes ROS an important weak point of tumors, specifically when patients undergo conventional treatments.
Imagine we have a glass full of water (that are the tumors full of ROS when patients are given chemo/radio or other pro-oxidant treatments) and we only need to add an extra drop for the water to go over the brim and spill out. This is the strategy I want to address in this post and the extra drop of water will consist of supplements and re-purposed drugs that will create the extra ROS required for the tumours to hopefully die.
Indeed both therapeutic- and the side-effects of ionizing radiation during radiotherapy and of chemotherapy are mainly due to the generation of ROS, that in turn interact inside targeted cells with the cell DNA (Ref.). Hopefully, the generated ROS exceeds the anti-oxidant production capacity of cancerous tissue, leading ultimately to apoptosis or necrosis. And hopefully, because normal cells have a lower initial ROS level, they will manage to survive during the conventional treatments. Various conventional therapies such as monoclonal antibodies and TKIs also seem to have many ROS-mediated anti-cancer mechanisms of action (Ref.). Same applies to many treatments discussed on this website including Taurolidine, High Dose Vitamin C, Artemisinin.
Therefore, in contrast to the whole concept of extending life and protecting cells with anti-oxidants, when fighting cancer a pro-oxidant strategy can make sense. It may support treatments such as radiotherapy and of chemotherapy, and could therefore be a great approach to increase the chance of effectiveness of anti-cancer treatment.
Nevertheless, even if the normal cells will cope much better with pro-oxidants compared to cancer cells, I do not like the idea to continuously expose the body to pro-oxidant treatments. This is why I see this strategy as a pulsed strategy to be implemented around the pro-oxidant treatments such as radiotherapy and chemotherapy sessions, or around other core treatments that are of a pro-oxidant nature (including High Dose Vitamin C, Artemisinin, Taurolidine and others).
Between those sessions, focused on increasing the pro-oxidant level, we can also consider detox cycles including anti-oxidants as long as those are used several days away from chemo/radio.
Modulating the Yin and Yang Energy of Cells to Fight Cancer:
The Concept
According to the above discussion, with this Pro-Oxidant strategy our goal is to increase ROS in cancer cells to a level that is not sustainable for cancer cells. Most but not all of the ROS-increasing approaches discussed below are not selective to cancer cells alone, and will induce oxidant pressure on both the normal and the cancer cells. However, since normal cells have initially a lower ROS level, they will be able to cope much better with pro-oxidants compared to cancer cells. In order to increase intracellular ROS we can act on the following lines:
Reduce the intracellular antioxidants
Increase intracellular ROS (reactive oxygen species)
Reducing antioxidant level can be done in the following way:
reduce the fuel for anti-oxidant production. There are both direct and indirect fuels

indirect fuels required for the anti-oxidant production (or let's call this "the fuel of the fuel") are e.g. Glucose, Glutamine, Methionine
direct fuels used to produce anti-oxidants are e.g. Cysteine, NADPH, Glutamate

reduce the activity of anti-oxidant production systems (such as, but not only, Thioredoxin system) and reduce anti-oxidants
reduce the activity of the anti-oxidant master regulator NRF2
These major targets (excluding indirect fuels) are depicted in the figure below.
The yellow highlight hexagons in the figure above will be our targets, that we want to modulate and down regulate, as a part of the pro-oxidant strategy. I will discuss latter in this post what are the drugs and supplements that can help us modulate most of these targets.
However, note that besides these major approaches to reduce anti-oxidants, it is also possible to reduce anti-oxidant action by e.g. inhibiting the action of anti-oxidants. For example, one natural extract that is on top of my preferred list, Piperlogumine (that is the major component in Long Pepper), suppresses glutathione S-transferases (GSTs) that enables the anti-oxidant action of glutathione. Glutathione S-transferases (GSTs) is one of the enzymes know for inducing drug resistance to anticancer agents (Ref.1, Ref.2, Ref.3). Piperlogumine has also been found as glutathione depletor. Acetaminophen is another glutathione depletor – it is metabolized to N-acetyl-p-benzoquinone imine (NAPQI), which reacts with glutathione and can trigger glutathione depletion.
While the above may look a little complex, that doesn't have to be the case. We do not have to modulate all of the above. But obviously, the more we address the higher the chance of achieving our goal is.
Increasing intracellular ROS is a more straightforward approach. As discussed above, that can be achieved directly with e.g. high dose Vitamin C treatment that can generate ROS or with chemo or radio-therapy.
Nevertheless, besides these direct and more obvious ROS generating approaches, another approach that can help generate ROS is either by increasing mitochondria activity, or by reducing mitochondria activity. This is counter intuitive and the reason both can work is the following:
during it's normal function, mitochondria produces ROS (complexes I and III produce the majority of mitochondrial ROS) (Ref.). Increasing it's function, naturally will lead to increased ROS
on the other hand, when mitochondria is inhibited with mitochondria inhibitors, this induces incomplete electron transfer to oxygen that can lead to the formation of additional ROS (Ref.1, Ref.2. Ref.3). However, this is not always the case as it depends on the mitochondria inhibitor type and on the respiratory-chain substrates to determine if they will increase or reduce ROS (Ref.). Therefore, in general I would not rely on mitochondria inhibitors to do the job as a part of this strategy, unless we know exactly what we are doing. Nevertheless, in combo with radiation I would specifically use them since mitochondria inhibitors such as Atorvaqone (malaria drug) can induce a rapid decrease in oxygen consumption by the tumors and as a result increase the availability of oxygen inside the tumor, restoring the ability of oxygen to act as a radiosensitizer (Ref.).
According to this, in order to increase intracellular ROS we could also focus on inhibiting fermentation with fermentation inhibitors. This is because, when there is too much ROS produced by mitochondria (due to high energy demands), malignant cells start adopting a fermentation-based (glycolytic) energy production that in turn reduces the mitochondrial function and the related ROS production. By inhibiting fermentation, malignant cells have no other option than producing energy via mitochondria, which leads to an increase in the intra-cellular level of ROS, that is our goal in the strategy discussed here.
One way for cancer cells to switch energy production from mitochondria to fermentation, is by activating an enzyme called pyruvate dehydrogenase kinase (PDK). Indeed, it has been shown that inhibition of PDK enzyme induces cell death through increased mitochondria activity and subsequent ROS production (Ref.). This can be achieved with an existing drug, available and cheap, called DCA (Ref.). Furthermore, it has been shown that re-activating mitochondria with DCA while interfering with mitochondrial complexes I, with the help of Metformin, can further enhance ROS production (Ref.), that is inline with our discussion above.
Therefore, reducing the anti-oxidant level in cells increases the chance of pro-oxidant treatments (ROS inducing treatments) effectiveness. By doing this we are actually addressing one of the major drug resistance mechanism of tumours, that is related to the capability of tumors to increase anti-oxidants as soon as pro-oxidant treatments attack them. This is the reason why oncologist recommend patients not to use anti-oxidants while on chemo or radio-therapy. Indeed, this is not a theory only: I've seen on CT scan how, when antioxidants are given intravenously a few days after pro-oxidant treatments, they rescue the tumors and they continue to be active, while the tumors  treated with pro-oxidant treatment alone did not progressed. Even if the chemo is out of blood, or radiation has been done some days ago, their pro-oxidant effect is still doing the job days after their application. So I would always stay away from anti-oxidants some days after chemo/radio.
In my view, the anti-oxidants that should be avoided during chemo/radio and only give a week away from chemo or latter, are Glutathione intravenous or oral, Alpha Lipoic Acid intravenous or oral, NAC, Vitamin E, SOD. This dose not apply to most of the plant extracts, that have limited anti-oxidant potential in humans at the tumor level, and actually many of them have a pro-oxidant action in cancer (Ref.) next to many other beneficial effects.
As it will also become evident in the discussion below, plant extracts such as Curcumin, Quercetin, EGCG, Piperlogumine, etc. can inhibit the production of anti-oxidant enzymes inside cancer cells. This makes them effectively act as pro-oxidants even if the are often refereed to as antioxidants. In addition to this, it has been shown that plant food constituents such as polyphenols can act as pro-oxidants in the following conditions:
at high dose
inside cells that contain high amounts of e.g. Iron or Copper ions (which is the case of cancer cells)
in cells that have high level of pH (which again is the case of intracellular space in cancer cells) 
For more discussion on the above please see the following reference: https://www.ncbi.nlm.nih.gov/pmc/articles/PMC2952083/
This is the reason why, as I will further discuss latter in this post, I see "anti-oxidants" split into two major categories:
strong-anti-oxidants (to be avoided in the strategy discussed in this post and in general should not be combined with chemo/radio)
anti-oxidants known to have pro-oxidant effects – this is the category including plant extracts like Curcumin, Quercetin etc. and in my view they can be combined with chemo/radio but I would use them some days away from chemo/radio.
Indeed, Curcumin intravenous is often used at cancer clinics around the world and with good results in combo with Chemo- and Radio-therapy. Nevertheless, I would always start to use them some days latter (e.g. 3 days) and not immediately with or after Chemo- and Radio-therapy.
Coming back to anti-oxidant inhibitors, indeed, various studies have demonstrated that concomitant inhibition of anti-oxidant inhibitors (such as Sulfasalazin, Auranofin, etc.) next to pro-oxidant treatments is lethal to most cancer types but not to normal cells. Here are some examples of those studies:
There are thousand of papers, and therefore large amount of scientific literature, supporting the fact that inhibition of anti-oxidants can increase the effectiveness of pro-oxidant treatments including alternative and conventional treatments, in all cancer types.
Modulating the Yin and Yang Energy of Cells to Fight Cancer:
The Tools
Now that it is clear the anti-oxidant depletion can support the effectiveness of pro-oxidant therapies, the question would be what are the targets that can help us inhibit the anti-oxidants and what are the pro-oxidant treatment that we can have in mind to use as core treatments, or in general as a component of this strategy. Bellow, I will address the major targets and the drugs and supplements that can modulate those in a structured manner, but without explaining each target since otherwise this post would become extremely long:
Reducing antioxidant level can be done with the following drugs and supplements:
reduce the direct fuel for anti-oxidant production:

Drugs and supplements reducing Cysteine: Sulfasalazine (x(c) (-) inhibitor) (Ref.) Sorafenib & Erastin (x(c) (-) inhibitors) (Ref.)
Drugs and supplements reducing NADPH: DHEA (PPP inhibitor) (Ref.), Polydatin (PPP inhibitor) (Ref.), EGCG (PPP inhibitor) (Ref.), Rosmarinic acid (PPP inhibitor) (Ref.)

reduce the activity of anti-oxidant production systems and reduce anti-oxidants

Drugs and supplements reducing Thioredoxin: Auranofin (TrxR inhibitor) (Ref.), Curcumin (TrxR inhibitor) (Ref.), EGCG (TrxR inhibitor) (Ref.), Quercetin (TrxR inhibitor) (Ref.)
Drugs and supplements reducing Glutathione and GPx: Tiopronin (inhibition of glutathione peroxidase (GPx))(Ref.), Methylglyoxal (inhibition of glutathione peroxidase (GPx))(Ref.), Danshen (inhibition of glutathione peroxidase (GPx))(Ref.), BSO (glutamate cysteine ligase inhibitor)(Ref.), Piperlogumine (glutathione transferase inhibitor) (Ref.), Paracetamol/Acetaminophen (glutathione depletion) (Ref.), Statins (inhibition of glutathione peroxidase (GPx))(Ref.)*, Ethacrynic acid (glutathione transferase inhibitor) (Ref.), Pyruvinium pamoate (inhibits glutathione supply from stromal cells) (Ref.), DHA from Omega 3 oil (intracellular GSH depletion) (Ref.), Fenbendazole (glutathione depletion) (Ref.)
*A nice picture showing the connection between Melavonate Pathway and GPx, and why Statins finallyy reduce anti-oxidant level innside the cell: Fig.1 in https://www.ncbi.nlm.nih.gov/pmc/articles/PMC5345622/
Drugs and supplements reducing SOD: Tetrathiomolybdate (reduces SOD) (Ref.), Disulfiram (reduces SOD) (Ref.), Salinomycin (reduces SOD) (Ref.)
Drugs and supplements reducing Peroxiredoxins: effective and available inhibitors to be found

reduce the activity of the anti-oxidant master regulator NRF2
Other ways to reduce the fuel for anti-oxidant production is by reducing the indirect fuel or "the fuel of the fuel". This can be addressed in the following way:
Reducing Glutamine: diet (reduce red meat), Phenyl Butyrate
Reducing Methionine: diet (reduce eggs, meat, and fish, sesame seeds) Note: Methionine can also be reduced by AKBA found in Boswellia food supplements: https://www.ncbi.nlm.nih.gov/pmc/articles/PMC6355826/ Typically, Boswellia supplements contain about 2% AKBA, but there are also supplements available containing 30% AKBA
Increasing intracellular ROS can be achieved with some of the following
Promotion: Please consider our Food Supplements Shop
MCS Formulas is a food supplement company founded by members of Cancer Treatments Research community. It's goal is to deliver value to the world in two major ways:
deliver some of the best product combination of Purity, Strength and Fair Price (as well as Compiled Packages). We often focus on single compounds and did the best to remove excipients, maximise active ingredients in a capsule, and increase bio-availability;


.

donate 50% of our profits to projects to accelerate the transfer of value from traditional medicine and/or academic space to clinical space, to enable new treatments for cancer patients. (We will use a third party audit to monitor that this is what we are going to do as soon as we will be able to do it.) The remaining 50% will help MCS Formulas to be healthy, grow, and be able to contribute more.
Below is an image that consolidates the value MCS Formulas delivers through its products and actions, which comes with TRUST and FAIRNESS.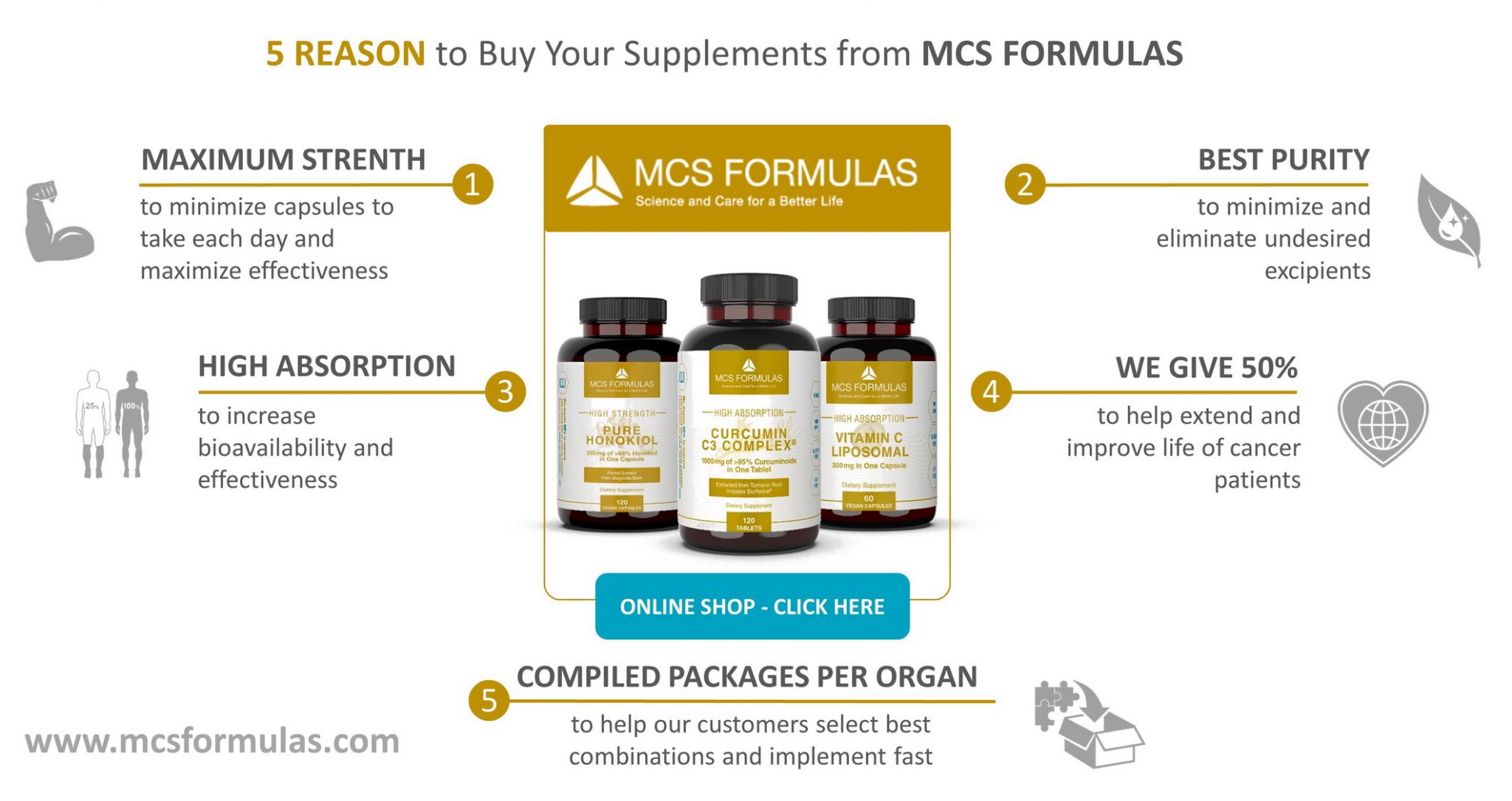 Modulating the Yin and Yang Energy of Cells to Fight Cancer:
The Application
With the above list I did not tried to be complete but highlight some of the most relevant targets and available tools to modulate them. As we can see from the above, there are many drugs and supplements that have the capability to support chemotherapy and radiotherapy, or that can be used alone to build a strong treatment cocktail. The figure below shows an example of how I would consolidate some of them together.
Note on the figure above:
For each drug or supplement, only the major targets relevant to this strategy are mentioned (otherwise most of the drugs and supplements have multiple targets)
Blue-coloured hexagons represent repurposed drugs while Moustard-coloured hexagons represent natural extracts
Example of daily doses that I would consider on the above (oral administration):
Below I discuss the daily dose but this is only visible to registered visitors. All visitors can easily register, for free, using the login options located below or at the right side of the page (when using a desktop) and at the bottom of the page (when using mobile), where login option via Facebook account is also available. It only takes one minute to registered on this website.
I would always start each drug an supplement step by step towards the target dose, and not all at once. For example I would add one new drug or supplement every two days (to identify any undesired reaction if any) and increase towards the target dose during e.g. two weeks.
The figure above shows a cluster of drugs and supplements that I selected as priority. However, this doesn't mean that all should be used. Even if only one of the above drugs is used to support chemo or radiotherapy, it should still be helpful. Of course, preferably all should be used if that is possible. On the right side of the figure I also highlighted "other options" for the selected drugs/supplements, that could represent alternatives for Sulfasalazine, Auranofin, Canagliflozin, Retinoic Acid, Piperlogumin, Polydatin.
Notes:
sulfasalazine treatment may induce brain edema in brain cancer patients (Ref.) so it would be best to avoid it in this case
I would avoid using DHEA when the patients deal with a hormonal cancer, and clearly not use it in prostate cancer
Note that in my experience, using high levels of DHEA alone to address the anti-oxidant production is not effective enough. This is evidenced by functional adrenocortical tumors that produce very high levels of DHEA in patients, while these tumors are very aggressive and resistant to chemo. This non-effectiveness of DHEA alone may be explained by two facts: either DHEA is converted very fast in hormones (this is an argument often used in the literature), or tumours find other ways  to generate NADPH (that is inhibited by DHEA when inhibiting PPP pathway). Indeed, I think the challenge is the latter, since PPP is responsible for generation of about 20% of NADPH. Most of NADPH is generated via other pathways such as 10-formyl-THF. Nevertheless, addressing anti-oxidant production with DHEA next to all the other drugs and supplements listed above will certainly increase the chance of achieving our goal.
Of the above drugs, in my view, Auranofin, Sulfasalazin and Retinoic Acid stand out in their capability to inhibit the anti-oxidant production, and these would be the first I would consider to use to support chemo or radio. If not available, there are many still relevant options listed above. Disulfiram is also one drug that stands out in the fight against cancer. However, the challenge related to this is the fact that once the patient is taking it, no alcohol can be used anymore – in some cases this may represent a challenge since some intravenous drugs that the patient may need could contain ethanol.
In order to apply the above strategy I would first consider what is my core/central treatment. If chemo or radio is the core treatment, I would apply this strategy in the following way, as an example:
the drugs use to reduce anti-oxidants: I would start a few days before chemo/radio (e.g. 2-3 days) until several days after chemo/radio (e.g. 5-7 days); a few of them can be continued for longer time, but too many at the same time for too long time may be too heavy for the body.
the food supplements (such as Curcumin, EGCG, Quercetin, Piperlogumine, and others mentioned above) can be applied continuously, with a short brake starting a few days before chemo/radio (2-3 days) and until a few days after (2-3 days). While we expect that the supplements above will add value to this strategy (and I would feel safe even maintaining them) given their potential for pro-oxidant action, I may stop them just to be 100% we do not interfere with chemo/radio.
in between chemo/radio sessions I would use High dose Vitamin C and Artesunate, all intravenous, if available. Curcumin and Quercetin intravenous would also fit here as well as Ozone therapy, Salinomyin, DCA and other ROS generating treatments. 
during all the time without pause I would take silver nano-particles and Omega 3. Artemisia Annua tea or capsules and Artemisinin capsules could also be used during this time, according to the procedure discussed here.
no strong anti-oxidants should be used a few days before and about 7 days after chemo/radio. By strong antioxidants,  understand N-acetylcysteine (NAC), Glutathione, Alpha Lipoic Acid, Vitamin E.
Note: a few lines above have been changed compared to the version initially published to accommodate some discussions regarding the safety of using supplements such as Curcumin, EGCG, Quercetin, Piperlogumine during the chemo day.
So essentially, for food supplements I would apply the following rule:
strong anti-oxidants like NAC, ALA, etc. should not be taken 6-7 days before and after chemo;
anti-oxidants known to have pro-oxidant effects (like Quercetin, Curcumin, etc.) should not be taken 2-3 days before and after chemo
pro-oxidants or others widely known to bring good benefit to radio/chemo can be continued during chemo/radio. Examples are: Omega 3, Aremisia Annua, Silver Solution.
Therefore, the anti-oxidant reduction strategy (and more specifically the re-purposed drugs in this strategy) is applied in pulses around chemo. The supplements and the additional intravenous treatments are added to support this strategy and can be used in a more continuous manner.
If chemo is taken in a more continuous way and not pulsed (such as it is the case for oral chemo drugs), for the food supplements I would apply the following approach:
strong anti-oxidants like NAC, ALA, etc. should just be avoided;
anti-oxidants known to have pro-oxidant effects (like Quercetin, Curcumin, etc.) will be used in cycles such as 2 weeks ON and 2 weeks OFF
pro-oxidant food supplements or others widely known to bring good benefit to radio/chemo will be used in a continuous manner; examples are: Omega 3, Aremisia Annua, Silver Solution.
In this case, repurposed pro-oxidant drugs such as Sulfasalazine, Auranofin, etc., can be also used in cycles such as 2 weeks ON and 2 weeks OFF.
If there is no chemo/radio done/available (or e.g. Taurolidine) , I would consider the intravenous treatments mentioned in the figure above, as the core treatment, i.e. Vitamin C + EDTA, Artesunate, 2DG, and build the strategy around them. In that case, I would probably go with these 2x/week supported by the "reduce anti-oxidant category" and do such a cycle for 3-4 weeks (followed by a 2 weeks off, to reduce the oxidant pressure on the body). The intravenous treatment would be done in the following way in my view: First High Dose Vitamin C+EDTA, followed by 2DG metromic (if possible), followed by Artesunate.
High dose Vitamin C are suggested to be given in combo with EDTA since this combination triggers an increased pro-oxidant effect (Ref.). This seems to be related to the fact that EDTA increases the intracellular labile iron pool (LIP) with exogenous Fe2+, that in turn increases the pro-oxidant effect of high dose Vitamin C (Ref.). Most of the private cancer clinics have available EDTA intravenous. If EDTA is used, I would first start with a lower dose of Vitamin C compared to that used when Vitamin C alone is used.
This strategy will likely induce cancer cell death via ferroptosis too (Ref.) as ROS-mediated autophagy increases intracellular iron levels (Ref.). Since ferroptosis is an autophagic cell death process, it is best not to use HydroxyChloroquine while on this strategy (Ref.). I would rely more on ferroptosis in case chemo or radio is not used. If chemo or radio is used, I would rely less on ferroptosis and I would use HydroxyChloroquine due to it's additional value to chemo as an autophagy inhibitor.
In parallel to the treatment, I would have an eye on the diet, and specifically try to reduce the intake of glucose (sugar), glutamine (red meat) and Methionine (found in meat, fish, and dairy products). This is because glucose becomes a good fuel for NADPH production, Glutamine a good source for Glutamate production, and Methionine is converted in Cysteine inside the cells. Of these, Methionine-free diet could be the easiest to achieve and most relevant for this strategy. Here are a few relevant studies on Methionine-free diet:
Note: Methionine can also be reduced by AKBA found in Boswellia food supplements: https://www.ncbi.nlm.nih.gov/pmc/articles/PMC6355826/ Typically, Boswellia supplements contain about 2% AKBA, but there are also supplements available containing 30% AKBA.
Extending the "Pro-Oxidant Strategy" Strategy
If I would want to increase the strength of the "Pro-Oxidant strategy" my first step would be to focus on the strategy "Cellular Building Blocks" inhibition and more specifically, I would do my best to inhibit the Melavonate Pathway.
By doing that, there is a good chance to inhibit glutathione peroxidase (GPx) which is the first line of defence of cells against hydrogen peroxide.
"Cellular Building Blocks" inhibition and inhibition of the the Melavonate Pathway
Inhibition of Melavonate Pathway has been discussed on this website extensively here and here. The following are the major inhibitors I would use:
HydroxyCitrate (HCA) found as supplement online and typically used in a dose of about 1.5g/day or more
Atorvastatin typically used in cancer treatments in a dose of 40-80mg/day
Dipyridamole typically used in the range of 200mg 2x/day
Lycopene typically used in a 100mg/day range
If there is space for more, I would strongly consider adding the "Shut Down Energy Engines" and I would specifically focus on the fermentation inhibitors. Of those, the best that would fit here would be 3BP (3-Bromopyruvate), because it increases ROS directly next to inhibiting fermentation.
Out of "Shut Down Energy Engines" I would only pick the fermentation inhibitors (and not mitochondria inhibitors) because, when there is too much ROS produced by mitochondria (due to high energy demands) malignant cells start adopting a fermentation-based (glycolytic) metabolism that in turm reduces the mitochondrial production of ROS. So, by reducing fermentation, malignant cells have no other option than producing energy via mitochondria producing ROS that would kill them, or slow down the growth.
"Nutrient depletion"
Furthermore, I would consider the use of PhenylButyrate (typically used in the range of a few g/day) as a Glutamine depletor. PhenylButyrate is only one component out of many drugs and supplements that are part of the "Nutrient depletion" strategy (that I will discuss in details in another post), but an important one to work in synergy with the strategy discussed in this post, i.e. Pro-Oxidant Strategy, due to it's contribution to the generation of anti-oxidants in cancer cells..
Finally, I should stress that this strategy should only be used temporarily since long term anti-oxidant depletion is expected to be at the base of diverse neuroimmune disorders, including depression, myalgic encephalomyelitis/chronic fatigue syndrome and Parkinson's disease (Ref.).
Some Extra Details
The Yin: Reactive Oxygen Species
Reactive oxygen species (ROS) are a set of highly reactive molecules comprising:
Free radicals

Superoxide anion (O2−)
Hydroxyl radical (OH)

Non-radical species

Hydrogen peroxide (H2O2)
Singlet oxygen (1O2)
ROS continuously escape from the mitochondrial respiratory chain. At high concentrations they are able to react with many cellular components, such as nucleic acids, proteins and lipids, causing DNA damage that escapes the DNA repair system (Ref.). Reactive nitrogen species (RNS) are another family of free radicals, derived from nitric oxide (NO) and superoxide anion (O2−), that, acting together with ROS, can damage cells.
Mitochondria is the largest contributors of ROS in mammalian cells, converting approximately 1% of their consumed oxygen to superoxide anion (O2−) (Ref.). This happens due to a leakage of electrons to oxygen that produces ROS such as superoxide anion (O2−) and hydrogen peroxide (H2O2). There are at least 11 sites in mitochondria where superoxide anion (O2−) and hydrogen peroxide (H2O2) generation takes place (Ref.). Mitochondrial complexes I and III, are conventionally recognised as the major sites of mitochondrial production of (O2−) and (H2O2).
The Yang: The antioxidant defence of Cells
Cells have an antioxidant system to control ROS levels in cell organelles, cytoplasm and even in the extracellular space. Here are the major antioxidants or anti-oxidant systems present in the cells:
Enzymatic antioxidants or antioxidant systems:
Superoxide Dismutase (SOD) – an enzyme that catalyzes the dismutation (or partitioning) of the superoxide (O2−) radical into ordinary molecular oxygen (O2) and hydrogen peroxide (H2O2). Represents a very important antioxidant defense against oxidative stress in the body. It is a metalloenzyme which utilizes the metal ions including copper, iron, manganese, and zinc as cofactors to catalyze the dismutation of (O2−).
Catalase – enzyme that catalyzes the decomposition of hydrogen peroxide (H2O2) to water (H2O) and oxygen (O2).
Glutathione (GSH) system – Glutathione (GSH) is normally produced via a two-step reaction. In the first step, γ -glutamylcysteine is the product of a reaction between cysteine and glutamate (from Glutamine) enabled by the enzyme glutamate cysteine ligase (GCL). Glycine is then added to produce GSH through glutathione synthetase. GCL activity and cysteine levels, but not glutamate or glycine, are the rate-limiting substrate because intracellular concentrations of both glutamate and glycine are higher (Ref.) GCL is inhibited by inhibited by buthionine sulfoximine. Glutathione is also cosubstrate for glutathione peroxidases (GPX) which are part of the cellular enzymatic antioxidant network responsible for scavenging organic and inorganic peroxides, creating the GSSG oxidised form. Another enzyme part of this system is Glutathione S-transferases (GST) catalysing the conjugation of electrophilic substrates to glutathione (Ref.)
Thioredoxin (Trx) system – One of the major antioxidant systems that maintains the intracellular redox homeostasis is the thioredoxin (Trx) system. Consists out of  thioredoxin (Trx), thioredoxin reductase (TrxR) enzyme, and nicotinamide adenine dinucleotide phosphate (NADPH), all of which as one maintains cellular redox balance by directly inhibiting ROS (Ref.).
Peroxiredoxins –  cysteine-dependent peroxidase enzymes that play dominant roles in regulating peroxide levels within cells. These enzymes, often present at high levels and capable of rapidly clearing peroxides (Ref.)

Heme oxygenase-1 (HO-1) protein

– antioxidant mechanism of Heme oxygenase-1 involves an increase in Superoxide Dismutase and Catalase (Ref.)
Example of non-enzymatic antioxidants (found as food supplements):
Vitamins E and A
Alpha Lipoic Acid (ALA)
N-acetyl cysteine (NAC)
Coenzyme Q
NADPH
Glutathione (GSH)
Uric Acid
Albumin
Bilirubin
As discussed above, the anti-oxidant level inside the cells is controlled by Nrf2, that is a global regulator of the oxidative stress response.
Many of the above anti-oxidants can be found as food supplements at online shops. That includes, Superoxide Dismutase (SOD), Glutathione (GSH), Catalase, Alpha Lipoic Acid (ALA), N-acetyl cysteine (NAC), Vitamins E and A. It makes sense to have some of these at home to address potential side effects of chemo or radio whenever those side effects are not manageable otherwise.
Bellow, is a figure to give you a feeling on how ROS are addressed by various anti-oxidants.
References
Enhancement of Radiation Response in Breast Cancer Stem Cells by Inhibition of Thioredoxin and Glutathione Dependent Metabolism https://www.ncbi.nlm.nih.gov/pmc/articles/PMC5077643/
The current study determined if depletion of glutathione (GSH) and inhibition of thioredoxin reductase (TR) activity could enhance radiation responses in human breast cancer stem cells by a mechanism involving thiol dependent oxidative stress. Buthionine sulfoximine (BSO), a GSH synthesis inhibitor; sulfasalazine (SSZ), an inhibitor of xc- cysteine/glutamate antiporter; auranofin (Au), a thioredoxin reductase inhibitor; or 2AAPA, a GSH-reductase inhibitor, were used to inhibit GSH- and thioredoxin (Trx)-metabolism. Clonogenic survival, Matrigel assays, flow cytometry cancer stem cell assays (CD44+CD24-ESA+ or ALDH1), and human tumor xenograft models were used to determine the antitumor activity of drug and radiation combinations. Combined inhibition of GSH and Trx-metabolism enhanced cancer cell clonogenic killing and radiation responses in human breast and pancreatic cancer cells via a mechanism that could be inhibited by N-acetylcysteine (NAC). Au, BSO, and radiation also significantly decreased breast cancer cell migration and invasion in a thiol dependent fashion that could be inhibited by NAC. In addition pre-treating cells with Au sensitized breast cancer stem cell populations to radiation in vitro as determined by CD44+CD24-ESA+ or ALDH1. Combined administration of Au and BSO, given prior to radiation significantly increased the survival of mice with human breast cancer xenografts as well as decreasing the number of ALDH1 positive cancer stem cells. These results indicate that combined inhibition of GSH- and Trx-dependent thiol metabolism using pharmacologically relevant agents can enhance responses of human breast cancer stem cells to radiation both in vitro and in vivo.
Production of superoxide and hydrogen peroxide from specific mitochondrial sites under different bioenergetic conditions https://www.ncbi.nlm.nih.gov/pmc/articles/PMC5641882/
Metabolic Regulation of Redox Balance in Cancer https://www.ncbi.nlm.nih.gov/pmc/articles/PMC6678865/
Reactive oxygen species (ROS) are chemically active free radicals produced by partial reduction of oxygen that can activate discrete signaling pathways or disrupt redox homeostasis depending on their concentration. ROS interacts with biomolecules, including DNA, and can cause mutations that can transform normal cells into cancer cells. Furthermore, certain cancer-causing mutations trigger alterations in cellular metabolism that can increase ROS production, resulting in genomic instability, additional DNA mutations, and tumor evolution. To prevent excess ROS-mediated toxicity, cancer-causing mutations concurrently activate pathways that manage this oxidative burden. Hence, an understanding of the metabolic pathways that regulate ROS levels is imperative for devising therapies that target tumor cells. In this review, we summarize the dual role of metabolism as a generator and inhibitor of ROS in cancer and discuss current strategies to target the ROS axis.
Role of Nrf2 in Oxidative Stress and Toxicity https://www.ncbi.nlm.nih.gov/pmc/articles/PMC4680839/
Organismal life encounters reactive oxidants from internal metabolism and environmental toxicant exposure. Reactive oxygen and nitrogen species cause oxidative stress and are traditionally viewed as being harmful. On the other hand, controlled production of oxidants in normal cells serves useful purposes to regulate signaling pathways. Reactive oxidants are counterbalanced by complex antioxidant defense systems regulated by a web of pathways to ensure that the response to oxidants is adequate for the body's needs. A recurrent theme in oxidant signaling and antioxidant defense is reactive cysteine thiol–based redox signaling. The nuclear factor erythroid 2–related factor 2 (Nrf2) is an emerging regulator of cellular resistance to oxidants. Nrf2 controls the basal and induced expression of an array of antioxidant response element–dependent genes to regulate the physiological and pathophysiological outcomes of oxidant exposure. This review discusses the impact of Nrf2 on oxidative stress and toxicity and how Nrf2 senses oxidants and regulates antioxidant defense.
Activators and Inhibitors of NRF2: A Review of Their Potential for Clinical Development https://www.hindawi.com/journals/omcl/2019/9372182/
The transcription factor NRF2 (nuclear factor erythroid 2-related factor 2) triggers the first line of homeostatic responses against a plethora of environmental or endogenous deviations in redox metabolism, proteostasis, inflammation, etc. Therefore, pharmacological activation of NRF2 is a promising therapeutic approach for several chronic diseases that are underlined by oxidative stress and inflammation, such as neurodegenerative, cardiovascular, and metabolic diseases. A particular case is cancer, where NRF2 confers a survival advantage to constituted tumors, and therefore, NRF2 inhibition is desired. This review describes the electrophilic and nonelectrophilic NRF2 activators with clinical projection in various chronic diseases. We also analyze the status of NRF2 inhibitors, which at this time provide proof of concept for blocking NRF2 activity in cancer therapy.
Potential Applications of NRF2 Inhibitors in Cancer Therapy 
The NRF2/KEAP1 pathway represents one of the most important cell defense mechanisms against exogenous or endogenous stressors. Indeed, by increasing the expression of several cytoprotective genes, the transcription factor NRF2 can shelter cells and tissues from multiple sources of damage including xenobiotic, electrophilic, metabolic, and oxidative stress. Importantly, the aberrant activation or accumulation of NRF2, a common event in many tumors, confers a selective advantage to cancer cells and is associated to malignant progression, therapy resistance, and poor prognosis. Hence, in the last years, NRF2 has emerged as a promising target in cancer treatment and many efforts have been made to identify therapeutic strategies aimed at disrupting its prooncogenic role. By summarizing the results from past and recent studies, in this review, we provide an overview concerning the NRF2/KEAP1 pathway, its biological impact in solid and hematologic malignancies, and the molecular mechanisms causing NRF2 hyperactivation in cancer cells. Finally, we also describe some of the most promising therapeutic approaches that have been successfully employed to counteract NRF2 activity in tumors, with a particular emphasis on the development of natural compounds and the adoption of drug repurposing strategies.
Pro-oxidant natural products as anticancer agents https://www.ncbi.nlm.nih.gov/pubmed/22594470
Cancer cells produce high levels of reactive oxygen species (ROS) that lead to a state of increased basal oxidative stress. Since this state of oxidative stress makes cancer cells vulnerable to agents that further augment ROS levels, the use of pro-oxidant agents is emerging as an exciting strategy to selectively target tumor cells. Natural products have provided a significant contribution to the development of several drugs currently used in cancer chemotherapy. Although many natural products are known to affect the redox state of the cell, most studies on these compounds have focused on their antioxidant activity instead of on their pro-oxidant properties. This article provides an overview of natural products with pro-oxidant and anticancer activities, with special focus on plant secondary metabolites, and discusses their possible use as cancer chemotherapeutic agents.
Mitochondrial electron transport chain, ROS generation and uncoupling https://www.spandidos-publications.com/10.3892/ijmm.2019.4188
The mammalian mitochondrial electron transport chain (ETC) includes complexes I‑IV, as well as the electron transporters ubiquinone and cytochrome c. There are two electron transport pathways in the ETC: Complex I/III/IV, with NADH as the substrate and complex II/III/IV, with succinic acid as the substrate. The electron flow is coupled with the generation of a proton gradient across the inner membrane and the energy accumulated in the proton gradient is used by complex V (ATP synthase) to produce ATP. The first part of this review briefly introduces the structure and function of complexes I‑IV and ATP synthase, including the specific electron transfer process in each complex. Some electrons are directly transferred to O2 to generate reactive oxygen species (ROS) in the ETC. The second part of this review discusses the sites of ROS generation in each ETC complex, including sites IF and IQ in complex I, site IIF in complex II and site IIIQo in complex III, and the physiological and pathological regulation of ROS. As signaling molecules, ROS play an important role in cell proliferation, hypoxia adaptation and cell fate determination, but excessive ROS can cause irreversible cell damage and even cell death. The occurrence and development of a number of diseases are closely related to ROS overproduction. Finally, proton leak and uncoupling proteins (UCPS) are discussed. Proton leak consists of basal proton leak and induced proton leak. Induced proton leak is precisely regulated and induced by UCPs. A total of five UCPs (UCP1‑5) have been identified in mammalian cells. UCP1 mainly plays a role in the maintenance of body temperature in a cold environment through non‑shivering thermogenesis. The core role of UCP2‑5 is to reduce oxidative stress under certain conditions, therefore exerting cytoprotective effects. All diseases involving oxidative stress are associated with UCPs.
The Non-Essential Amino Acid Cysteine Becomes Essential for Tumor Proliferation and Survival https://www.ncbi.nlm.nih.gov/pmc/articles/PMC6562400/
The non-essential amino acid cysteine is used within cells for multiple processes that rely on the chemistry of its thiol group. Under physiological conditions, many non-transformed tissues rely on glutathione, circulating cysteine, and the de novo cysteine synthesis (transsulfuration) pathway as sources of intracellular cysteine to support cellular processes. In contrast, many cancers require exogeneous cystine for proliferation and viability. Herein, we review how the cystine transporter, xCT, and exogenous cystine fuel cancer cell proliferation and the mechanisms that regulate xCT expression and activity. Further, we discuss the potential contribution of additional sources of cysteine to the cysteine pool and what is known about the essentiality of these processes in cancer cells. Finally, we discuss whether cyst(e)ine dependency and associated metabolic alterations represent therapeutically targetable metabolic vulnerabilities.
Targeting Glutathione Metabolism: Partner in Crime in Anticancer Therapy https://www.ncbi.nlm.nih.gov/pmc/articles/PMC6724225/#B43-nutrients-11-01926
Glutathione (GSH) is the predominant low-molecular-weight antioxidant with a ubiquitous distribution inside the cell. The steady-state level of cellular GSH is dependent on the balance between synthesis, hydrolysis, recycling of glutathione disulphide (GSSG) as well as cellular extrusion of reduced, oxidized, or conjugated-forms. The augmented oxidative stress typical of cancer cells is accompanied by an increase of glutathione levels that confers them growth advantage and resistance to a number of chemotherapeutic agents. Targeting glutathione metabolism has been widely investigated for cancer treatment although GSH depletion as single therapeutic strategy has resulted largely ineffective if compared with combinatorial approaches. In this review, we circumstantiate the role of glutathione in tumour development and progression focusing on how interfering with different steps of glutathione metabolism can be exploited for therapeutic purposes. A dedicated section on synthetic lethal interactions with GSH modulators will highlight the promising option of harnessing glutathione metabolism for patient-directed therapy in cancer.
Inhibition of cancer antioxidant defense by natural compounds https://www.oncotarget.com/article/13723/text/
All classic, non-surgical anticancer approaches like chemotherapy, radiotherapy or photodynamic therapy kill cancer cells by inducing severe oxidative stress. Even tough chemo- and radiotherapy are still a gold standard in cancer treatment, the identification of non-toxic compounds that enhance their selectivity, would allow for lowering their doses, reduce side effects and risk of second cancers. Many natural products have the ability to sensitize cancer cells to oxidative stress induced by chemo- and radiotherapy by limiting antioxidant capacity of cancer cells. Blocking antioxidant defense in tumors decreases their ability to balance oxidative insult and results in cell death. Though one should bear in mind that the same natural compound often exerts both anti-oxidant and pro-oxidant properties, depending on concentration used, cell type, exposure time and environmental conditions. Here we present a comprehensive overview of natural products that inhibit major antioxidant defense mechanisms in cancer cells and discuss their potential in clinical application.
On the Inhibition Mechanism of Glutathione Transferase P1 by Piperlongumine. Insight From Theory https://www.frontiersin.org/articles/10.3389/fchem.2018.00606/full
Disulfiram anti-cancer efficacy without copper overload is enhanced by extracellular H2O2 generation: antagonism by tetrathiomolybdate https://www.ncbi.nlm.nih.gov/pmc/articles/PMC4745761/
Potential Anticancer Activity of Auranofin https://www.jstage.jst.go.jp/article/cpb/67/3/67_c18-00767/_html/-char/ja
Gold compounds have a long history of use in medicine. Auranofin was developed more than 30 years ago as an oral therapy for rheumatoid arthritis. Now, however, auranofin is rarely used in clinical practice despite its efficacy for treating rheumatoid arthritis because more novel antirheumatic medications are available. Although its use in clinical practice has decreased, studies on auranofin have continued and it shows promise for the treatment of several different diseases, including cancer and bacterial and parasitic infections. Several potential novel applications of auranofin for treating human disease have been proposed. Auranofin inhibits the activity of thioredoxin reductase (TrxR), an enzyme of the thioredoxin (Trx) system that is important for maintaining the intracellular redox state. Particularly in cancers, TrxR inhibition leads to an increase in cellular oxidative stress and induces apoptosis. TrxR overexpression is associated with aggressive tumor progression and poor survival in patients with breast, ovarian, and lung cancers. The Trx system may represent an attractive target for the development of new cancer treatments. Therefore, the TrxR inhibitor auranofin may be a potent anticancer agent. This review summarizes the current understanding of auranofin for cancer therapy.
Metabolism-Based Therapeutic Strategies Targeting Cancer Stem Cells https://www.ncbi.nlm.nih.gov/pmc/articles/PMC6438930/
Cancer heterogeneity constitutes the major source of disease progression and therapy failure. Tumors comprise functionally diverse subpopulations, with cancer stem cells (CSCs) as the source of this heterogeneity. Since these cells bear in vivo tumorigenicity and metastatic potential, survive chemotherapy and drive relapse, its elimination may be the only way to achieve long-term survival in patients. Thanks to the great advances in the field over the last few years, we know now that cellular metabolism and stemness are highly intertwined in normal development and cancer. Indeed, CSCs show distinct metabolic features as compared with their more differentiated progenies, though their dominant metabolic phenotype varies across tumor entities, patients and even subclones within a tumor. Following initial works focused on glucose metabolism, current studies have unveiled particularities of CSC metabolism in terms of redox state, lipid metabolism and use of alternative fuels, such as amino acids or ketone bodies. In this review, we describe the different metabolic phenotypes attributed to CSCs with special focus on metabolism-based therapeutic strategies tested in preclinical and clinical settings.
Phase I Trial of High Dose Paracetamol and Carmustine in Patients With Metastatic Melanoma https://pubmed.ncbi.nlm.nih.gov/12690304/
Reduced glutathione (GSH) production by tumour cells has been proposed as a mechanism for resistance to alkylating agents. High levels of paracetamol can deplete intracellular GSH. We conducted a phase I trial of high dose paracetamol and carmustine (BCNU) in patients with advanced malignant melanoma to determine the optimal biological dose and the maximum tolerated dose (MTD) with the goal of increasing sensitivity to BCNU by GSH depletion. Groups of three to five patients received escalating doses of paracetamol (10, 15 or 20 g/m(2)) every 3 weeks. Every other cycle, BCNU (10 mg/m(2)) was given 6.5 h after administration of paracetamol and 45 min before a 20 h infusion of N-acetylcysteine. Once the MTD for paracetamol had been determined, the dose of BCNU was sequentially escalated in subsequent cohorts to 150 mg/m(2). GSH levels were measured in peripheral blood mononuclear cells (PBMCs) and, when available, in tumour biopsies. The MTD of paracetamol was 15 g/m(2). The dose of BCNU was safely escalated to 150 mg/m(2). The most common toxicity was grade II nausea/vomiting. At 15 g/m(2), peak paracetamol levels (median 253 microg/ml) were reached between 1 and 4 h. No changes in GSH levels in PBMCs were seen. There were two partial responses, including a dramatic decrease in hepatic metastases. Treatment of melanoma patients with paracetamol (15 g/m(2)) every 3 weeks and BCNU (150 mg/m(2)) every 6 weeks is safe. The observation of two partial responses has led to a phase II study to evaluate treatment with high dose paracetamol alone or in combination with BCNU.
Ferroptosis and Its Potential Role in Human Diseases https://www.frontiersin.org/articles/10.3389/fphar.2020.00239/full
Ferroptosis is a novel regulated cell death pattern discovered when studying the mechanism of erastin-killing RAS mutant tumor cells in 2012. It is an iron-dependent programmed cell death pathway mainly caused by an increased redox imbalance but with distinct biological and morphology characteristics when compared to other known cell death patterns. Ferroptosis is associated with various diseases including acute kidney injury, cancer, and cardiovascular, neurodegenerative, and hepatic diseases. Moreover, activation or inhibition of ferroptosis using a variety of ferroptosis initiators and inhibitors can modulate disease progression in animal models. In this review, we provide a comprehensive analysis of the characteristics of ferroptosis, its initiators and inhibitors, and the potential role of its main metabolic pathways in the treatment and prevention of various diseased states. We end the review with the current knowledge gaps in this area to provide direction for future research on ferroptosis.
The Hallmarks of Ferroptosis http://www.columbia.edu/cu/biology/StockwellLab/index/publications/Dixon_ARC_2018.pdf
Ferroptosis is a nonapoptotic, iron-dependent form of cell death that can be activated in cancer cells by natural stimuli and synthetic agents. Three essential hallmarks define ferroptosis, namely: the loss of lipid peroxide repair capacity by the phospholipid hydroperoxidase GPX4, the availability of redoxactive iron, and oxidation of polyunsaturated fatty acid (PUFA)-containing phospholipids. Several processes including RAS/MAPK signaling, amino acid and iron metabolism, ferritinophagy, epithelial-to-mesenchymal transition, cell adhesion, and mevalonate and phospholipid biosynthesis can modulate susceptibility to ferroptosis. Ferroptosis sensitivity is also governed by p53 and KEAP1/NRF2 activity, linking ferroptosis to the function of key tumor suppressor pathways. Together these findings highlight the role of ferroptosis as an emerging concept in cancer biology and an attractive target for precision cancer medicine discovery.
Ferroptosis: past, present and future https://www.nature.com/articles/s41419-020-2298-2
Ferroptosis is a new type of cell death that was discovered in recent years and is usually accompanied by a large amount of iron accumulation and lipid peroxidation during the cell death process; the occurrence of ferroptosis is iron-dependent. Ferroptosis-inducing factors can directly or indirectly affect glutathione peroxidase through different pathways, resulting in a decrease in antioxidant capacity and accumulation of lipid reactive oxygen species (ROS) in cells, ultimately leading to oxidative cell death. Recent studies have shown that ferroptosis is closely related to the pathophysiological processes of many diseases, such as tumors, nervous system diseases, ischemia-reperfusion injury, kidney injury, and blood diseases. How to intervene in the occurrence and development of related diseases by regulating cell ferroptosis has become a hotspot and focus of etiological research and treatment, but the functional changes and specific molecular mechanisms of ferroptosis still need to be further explored. This paper systematically summarizes the latest progress in ferroptosis research, with a focus on providing references for further understanding of its pathogenesis and for proposing new targets for the treatment of related diseases.
Glutathione in Cellular Redox Homeostasis: Association with the Excitatory Amino Acid Carrier 1 (EAAC1)
The Glutathione System: A New Drug Target in Neuroimmune Disorders https://pubmed.ncbi.nlm.nih.gov/24752591/
Glutathione (GSH) has a crucial role in cellular signaling and antioxidant defenses either by reacting directly with reactive oxygen or nitrogen species or by acting as an essential cofactor for GSH S-transferases and glutathione peroxidases. GSH acting in concert with its dependent enzymes, known as the glutathione system, is responsible for the detoxification of reactive oxygen and nitrogen species (ROS/RNS) and electrophiles produced by xenobiotics. Adequate levels of GSH are essential for the optimal functioning of the immune system in general and T cell activation and differentiation in particular. GSH is a ubiquitous regulator of the cell cycle per se. GSH also has crucial functions in the brain as an antioxidant, neuromodulator, neurotransmitter, and enabler of neuron survival. Depletion of GSH leads to exacerbation of damage by oxidative and nitrosative stress; hypernitrosylation; increased levels of proinflammatory mediators and inflammatory potential; dysfunctions of intracellular signaling networks, e.g., p53, nuclear factor-κB, and Janus kinases; decreased cell proliferation and DNA synthesis; inactivation of complex I of the electron transport chain; activation of cytochrome c and the apoptotic machinery; blockade of the methionine cycle; and compromised epigenetic regulation of gene expression. As such, GSH depletion has marked consequences for the homeostatic control of the immune system, oxidative and nitrosative stress (O&NS) pathways, regulation of energy production, and mitochondrial survival as well. GSH depletion and concomitant increase in O&NS and mitochondrial dysfunctions play a role in the pathophysiology of diverse neuroimmune disorders, including depression, myalgic encephalomyelitis/chronic fatigue syndrome and Parkinson's disease, suggesting that depleted GSH is an integral part of these diseases. Therapeutical interventions that aim to increase GSH concentrations in vivo include N-acetyl cysteine; Nrf-2 activation via hyperbaric oxygen therapy; dimethyl fumarate; phytochemicals, including curcumin, resveratrol, and cinnamon; and folate supplementation.
The role of peroxiredoxins in cancer https://www.ncbi.nlm.nih.gov/pmc/articles/PMC5351761/
Peroxiredoxins (PRDXs) are a ubiquitously expressed family of small (22–27 kDa) non-seleno peroxidases that catalyze the peroxide reduction of H2O2, organic hydroperoxides and peroxynitrite. They are highly involved in the control of various physiological functions, including cell growth, differentiation, apoptosis, embryonic development, lipid metabolism, the immune response, as well as cellular homeostasis. Although the protective role of PRDXs in cardiovascular and neurological diseases is well established, their role in cancer remains controversial. Increasing evidence suggests the involvement of PRDXs in carcinogenesis and in the development of drug resistance. Numerous types of cancer cells, in fact, are characterized by an increase in reactive oxygen species (ROS) production, and often exhibit an altered redox environment compared with normal cells. The present review focuses on the complex association between oxidant balance and cancer, and it provides a brief account of the involvement of PRDXs in tumorigenesis and in the development of chemoresistance.
Redox and Metabolic Circuits in Cancer https://www.frontiersin.org/research-topics/6407/redox-and-metabolic-circuits-in-cancer
Novel Insights Into Redox System and the Mechanism of Redox Regulation https://pubmed.ncbi.nlm.nih.gov/27255468/
In view of the critical role of redox system in numerous physiological and pathophysiological processes, it is important to clearly understand the family members and regulatory mechanism of redox system. In this work, we will systematically review the current data detailing the reactive oxygen species (ROS), enzymatic and non-enzymatic antioxidants and redox sensitive transcription factors and we give a brief description of redox-mediated epigenetic and post-translational regulation. We propose that the redox system functions as a "Redox Chain", consisting of "ROS-generating Enzyme Chain", "Combined Antioxidant Chain" and "Transcription Factor Chain". We suggest that an individualized assessment of the redox status in the body should be conducted for the redox intervention of a patient. The strategy of intervention is to maintain redox homeostasis via either facilitation of ROS signaling or enhancement of antioxidant defense. These findings provide valuable new insights into redox system and open up new paths for the control of redox-related disorders.
Cross-talk Between Two Antioxidants, Thioredoxin Reductase and Heme oxygenase-1, and Therapeutic Implications for Multiple Myeloma https://pubmed.ncbi.nlm.nih.gov/26795735/
Multiple myeloma (MM) is characterized by an accumulation of abnormal clonal plasma cells in the bone marrow. Despite recent advancements in anti-myeloma therapies, MM remains an incurable disease. Antioxidant molecules are upregulated in many cancers, correlating with tumor proliferation, survival, and chemoresistance and therefore, have been suggested as potential therapeutic targets. This study investigated the cross-talk between two antioxidant molecules, thioredoxin reductase (TrxR) and heme oxygenase-1 (HO-1), and their therapeutic implications in MM. We found that although auranofin, a TrxR inhibitor, significantly inhibited TrxR activity by more than 50% at lower concentrations, myeloma cell proliferation was only inhibited at higher concentrations of auranofin. Inhibition of TrxR using lower auranofin concentrations induced HO-1 protein expression in myeloma cells. Using a sub-lethal concentration of auranofin to inhibit TrxR activity in conjunction with HO-1 inhibition significantly decreased myeloma cell growth and induced apoptosis. TrxR was shown to regulate HO-1 via the Nrf2 signaling pathway in a ROS-dependent manner. Increased HO-1 mRNA levels were observed in bortezomib-resistant myeloma cells compared to parent cells and HO-1 inhibition restored the sensitivity to bortezomib in bortezomib-resistant myeloma cells. These findings indicate that concurrent inhibition of HO-1 with either a TrxR inhibitor or with bortezomib would improve therapeutic outcomes in MM patients. Hence, our findings further support the need to target multiple antioxidant systems alone or in combination with other therapeutics to improve therapeutic outcomes in MM patients.
Mitochondrial Calcium Regulation of Redox Signaling in Cancer https://pubmed.ncbi.nlm.nih.gov/32059571/
Calcium (Ca2+) uptake into the mitochondria shapes cellular Ca2+ signals and acts as a key effector for ATP generation. In addition, mitochondria-derived reactive oxygen species (mROS), produced as a consequence of ATP synthesis at the electron transport chain (ETC), modulate cellular signaling pathways that contribute to many cellular processes. Cancer cells modulate mitochondrial Ca2+ ([Ca2+]m) homeostasis by altering the expression and function of mitochondrial Ca2+ channels and transporters required for the uptake and extrusion of mitochondrial Ca2+. Regulated elevations in [Ca2+]m are required for the activity of several mitochondrial enzymes, and this in turn regulates metabolic flux, mitochondrial ETC function and mROS generation. Alterations in both [Ca2+]m and mROS are hallmarks of many tumors, and elevated mROS is a known driver of pro-tumorigenic redox signaling, resulting in the activation of pathways implicated in cellular proliferation, metabolic alterations and stress-adaptations. In this review, we highlight recent studies that demonstrate the interplay between [Ca2+]m and mROS signaling in cancer.
Disclaimer
This site is not designed to and does not provide medical advice, professional diagnosis, opinion, treatment or services to you or to any other individual. Through this site and linkages to other sites, I provide general information for educational purposes only. The information provided in this site, or through linkages to other sites, is not a substitute for medical or professional care, and you should not use the information in place of a visit, call consultation or the advice of your physician or other healthcare provider. I am not liable or responsible for any advice, course of treatment, diagnosis or any other information, services or product you obtain through this site. This is just my own personal opinion regarding what we have learned on this road.
Please read an extended version of the Disclaimer here: https://www.cancertreatmentsresearch.com/?page_id=1794
Related Articles