Every problem has a simple answer and everything in life should be simple. If it is complex, we do not understand it yet. However, as long as we do not get stuck into the details, many times we need to go through the complexity of things in order to be able to find answers. We need to constantly zoom in and zoom out and preferably change perspective while doing that, so that we can analyze the challenge from various perspectives.
Below, we have  a good example of detailed view from a certain perspectives on how the cells function and the chemicals that are used as "communication tools" or "communication processing tools" so that specific mechanism will be triggered and take place inside the cell, like for example cell division or demand for supplies.
Therefore, these images reflect part of our understanding today on intracellular communication. "Tomorrow", breakthroughs will take place and we may realize that some of these views are wrong. So lets not take them as absolute truth but as guides to help us get the context of the academic research in the field.
The ultimate question is not IF but WHICH one of the chemicals (visible or not below) is the answer to cancer in general. I know many of the very good scientists believe there is no one answer to cancer. This is just a matter of feeling and believe and not of knowledge, since no one knows. Well, I believe there is ONE answer. We just have to find it and one day that will happen. Or maybe that already happened but we need to see it.
PI3K/Akt/mTOR Pathway
---
Protein Tyrosine Kinase
---
Angiogenesis
---
Apoptosis
---
JAK/STAT Pathway
---
MAPK Pathway
---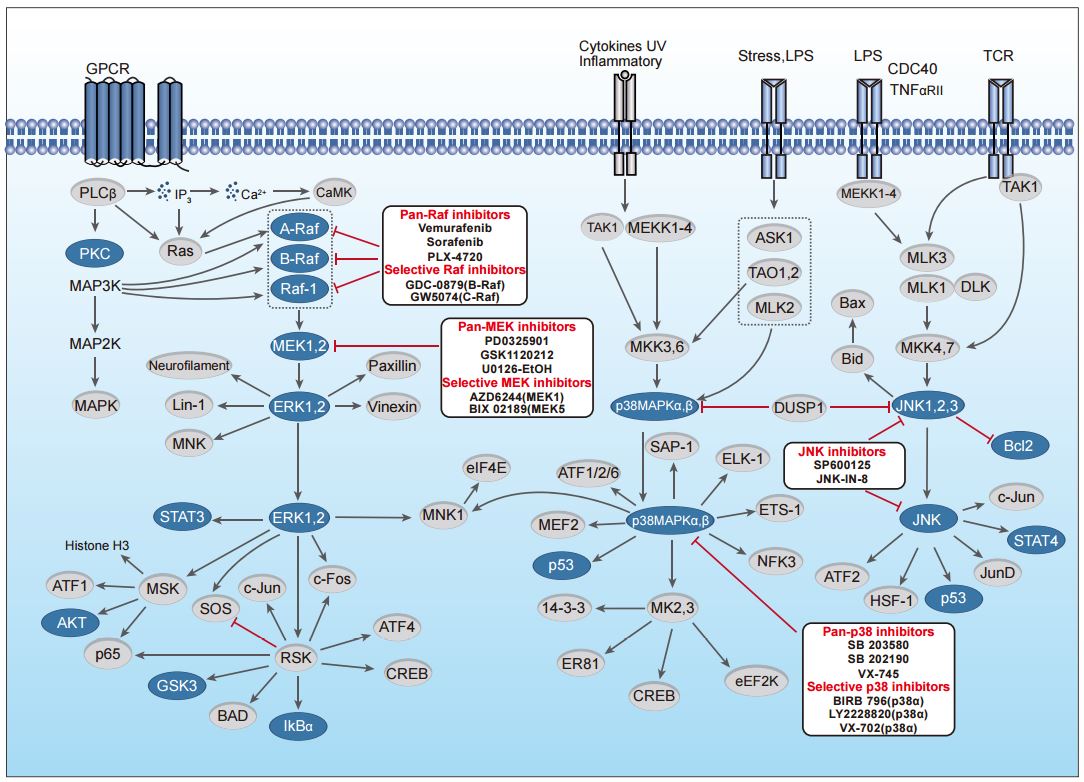 Cytoskeletal Signaling
---
Cell Cycle
---
TGF-beta/Smad Pathway
---
DNA Damage
---
Stem Cells and Wnt Pathway
---
Ubiquitin Pathway
---
Neuronal Signaling
---
NF-κB
---
GPCR & G Protein
---
Endocrinology & Hormones
---
Transmembrane Transporters
---
Metabolism
---
Microbiology
---
Reference for all of the above pictures: Ref
Related Articles