Energy production inside cells
In order to maintain normal function including biosynthesis and transport of molecules across cell membranes, cells require energy (called ATP). There are two "engines" inside the cells that they can use to produce energy:
One engine is called (aerobic) respiration. This is the engine that is typically used by the cells to produce energy during their normal function. The process involves cells organs called mitochondria, and it requires oxygen in order for this process to function.

Nutrients that are commonly used as a fuel by animal and plant cells in respiration include sugar, amino acids and fatty acids

The other engine is called (anaerobic) fermentation. This is the engine that is typically used by the cells in abnormal conditions, when cells require a higher amount of energy as fast as possible. Fermentation, takes place in the cytosol of the cells and it relies mainly on a process called glycolisis and it does not require oxygen (this is why it is called anaerobic).

As a fuel fermentation requires sugar (glucose).
This is the common way of energy production in cells as we are aware of. Although not relevant here, it is interesting to mention that it has been recently (2019) discovered organisms breathing sulfur instead of oxygen (Ref.). Other organisms use nitrate. 
Fermentation: fast energy with no oxygen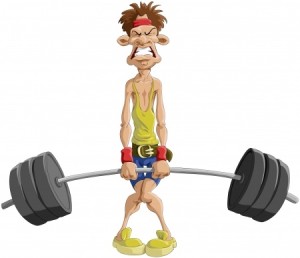 Fermentation, takes place for example when we lift heavy weights. In this conditions the cells require faster access to energy. However, even if we bread very fast, the oxygen required to produce the much needed energy via normal cellular respiration is not enough. As a result cells switch to fermentation that doesn't require oxygen. The drawback with fermentation is that this is a process less efficient in converting glucose into energy compared to respiration. This is why fermentation, requires a lot more glucose compared to respiration. Another drawback is that the fermenting engine also produced a lot of "smoke", or in scientific terms, it produces a large number of protons. These protons are acidifying the intracellular space, which would soon kill the cell. As a result, the cells export these protons, via different "doors" (transporters), outside the cell.
One main mechanism used by the cells to export protons is by binding protons with lactate. This generates the lactic acid, that is exported outside the cells via the transporters called MCT, a main one being the transporter called MCT4. This in turn leads to the acidification of the extracellular space. This is the same lactic acid that causes muscle pain after e.g. a day of lifting heavy weights. Fermentation is also the process that is used by the immune cells (including T cells, dendridic cells, macrophages), when they become overactive (see discussion here). Therefore, in general, fermentation is the capability of our cells to produce energy fast, without the need of oxygen, but with the drawback that it is a less efficient process and it increases the acidity of the extracellular space. Red blood cells produce their energy via glycolisis as they do not contain mithocondria (Ref.). 
In fermentation, the only energy extraction pathway is glycolysis, with one additional reaction at the end of the pathway. This is why fermentation and glycolisis are two different words often used to refer to the same pathway.
As tumours require to divide fast, and as oxygen becomes less and less available (this situation is called hypoxia) due to their size and chaotic growth, they rely more and more on fermentation as a way to produce energy and continue their development. The hunger for glucose required to feed fermentation is the reason why most tumours are visible on glucose-based imagining (PET-CT scan). This is the reason why tumours are known to acidify their extracellular space (which can deactivate/protonate some chemotherapeutic drugs before getting inside the cells, as well as reduce the activity of the immune cells in the vicinity of tumours). This dependence of cancer cells on glucose metabolism, even in the presence of oxygen, is known as the Warburg Effect.
So there are two major reasons why tumours require glucose more than most of the normal cells:
Glucose can be used to generate energy and other relevant cellular building blocks even when oxygen is not available
Glucose can be used to generate energy and other relevant cellular building blocks faster – this is why glucose will be used in high amounts even in the presence of oxygen
All of the above is general knowledge. As most statements have been often referenced throughout this website, I will not spend time now to add more references.
Fermentation related approaches to inhibit tumour growth
Metabolic alteration (such as the increased fermentation in tumours compared to normal cells) are not only mechanism characteristic to tumors at a latter stage of development, but it is possible that they are at the origin of cancer. Indeed, it has been recently shown that breast cancer is likely not a genetic disease but a metabolic one (Ref.). Furthermore, it has also been suggested that breast cancer (and probably other cancers) can be triggered by chronic stress that in turn activates fermentation in cells (Ref.).
The fact that tumours are relying so much on fermentation makes them also vulnerable and susceptible to the following approaches:
blocking tumor access to glucose
blocking tumor capability to export protons (the byproduct of fermentation)
blocking fermentation
(It should be noted that the words "blocking" or "inhibiting" are related to the intended action. But in reality, what we usually achieve when we intend to inhibit a process is it's reduction mainly. However, reducing the activity of mechanism that are essential in tumours will have negative impact on the tumours, while no or limited impact on normal cells.)
Blocking tumour access to glucose can be done either by targeting the transporters responsible for glucose transport across the cell membrane, or by reducing the blood glucose. Reducing the blood glucose, it is a different subject that I do not intend to discuss here. However, two major ways to reduce blood glucose is via the diet (using low carbohydrade diets or restricted Ketogenic Diet) and in advanced cancer patients inhibiting the capability of the body to create it's own glucose as discussed here (Ref.). Targeting glucose membrane transporters has been discussed here (Ref.) and here (Ref.), and it will be further addressed below.
Blocking tumor capability to export protons is an entire strategy that alone can represent an approach to inhibit the growth and possibly kill tumors. This strategy has been addressed previously on this website, here (Ref.).
Blocking fermentation will be further discussed here. When speaking about inhibiting or reducing fermentation, I will also address the inhibition of glucose transporters and lactic acid transporter, or in other words the beginning and the end of the fermentation process. As glycolisis process is a major part of the fermentation process, I may often refer to  glycolisis inhibitors which will mean the same as fermentation inhibitors.
Fermentation Inhibitors
Below, I will discuss Fermentation step by step and the possible inhibitors of those steps, according to the available scientific literature. In order to present relevant background information related to mechanisms while making it easier for the reader, I will use italic and gray text for the background information so that the reader can easily browse through the fermentation inhibitors. While all the inhibitors presented below I find relevant, those inhibitors that have in my view the highest potential effectiveness against the specific target (also having in mind their bio-availability), are highlighted with bold.
When trying to inhibit fermentation, I would use not one but three of the inhibitors discussed below in combo, during the same time. This is because some drugs/supplements may not be absorbed well in some patients or may be metabolised differently or depending on the tumour location may or may not reach the tumour. To cope with potential side effects of some of the drugs listed here, I would probably cycle them every several weeks, i.e. switch to a different combo every several weeks.
In order to better monitor the relevance of the content I share in posts such as this one, I will make the content below only visible to registered visitors. All visitors can easily register, for free, using the login options located at the right side of the page (when using a desktop) or at the bottom of the page (when using mobile), where login option via Facebook account is also available. It only takes a few minutes for someone to registered on this website, while it may take much longer to collect all the glycolisis inhibitors listed below.
Fermentation and Respiration inhibition: Shutting Down the Power House of Cancer
Inhibiting Fermentation only will help fight tumors by reducing their growth rate, as we reduce their capability to produce energy fast. In some cases we may even be able to kill tumors. Inhibition of fermentation will also support chemotherapy (via e.g. reduction of multi drug resistance pumps that are energy dependent as well as increasing pH around the tumors) and depending on the inhibited steps also radiotherapy (e.g. reducing GLUT transporters will lower the glucose available to produce anti-oxidants required to fight the pro-oxidant nature of radio- and chemo-therapy). However, to increase the chance of success against cancer, it's best to try inhibit both energy producing engines at the same time, i.e. inhibit fermentation using inhibitors discussed above and inhibit respiration using mithocondria inhibitors discussed here (Ref.).
I will discuss this strategy (Shutting Down the Power House of Cancer) in details in the next post where I will also address the priorities in my view. Lately, cancer patients have started to search for ways to inhibit all possible survival pathways at the same time. That sounds logical, but in doing that there is a tendency to mix various strategies and try to address more mechanism than its necessarily. Doing a little of everything may have limited activity. Instead, since we have a limit in the number of drugs and supplements we can use, focusing on specific strategies and addressing the related pathways with more inhibitors at the same time is best in my view.
Note: Since immune cell activity has an important metabolic profile (Ref.), combining strong metabolic inhibitors with immunotherapy should be carefully considered prior to its implementation. Targeting metabolism can be used as a means of regulating (not suppressing) immune responses (Ref.).
Update March 2020: Here is a nice recent review that helps understanding why glycolisis inhibitors have an anti-inflammatory activity, which is very important in cancer as well as supportive for chemo, radio and immuno therapy (Ref.).
References
Targeting lactate metabolism for cancer therapeutics
Aldehyde dehydrogenase inhibition combined with phenformin treatment reversed NSCLC through ATP depletion 
Targeting Glycolysis through Inhibition of Lactate Dehydrogenase Impairs Tumor Growth in Preclinical Models of Ewing Sarcoma 
Lactate Dehydrogenases as Metabolic Links between Tumor and Stroma in the Tumor Microenvironment
Role of PI3K/AKT Pathway in Insulin-Mediated Glucose Uptake
Cancer metabolism: a therapeutic perspective
Vitamin C selectively kills KRAS and BRAF mutant colorectal cancer cells by targeting GAPDH
In vitro effects of some flavonoids and phenolic acids on human pyruvate kinase isoenzyme M2
Quercetin induces apoptosis and autophagy in primary effusion lymphoma cells by inhibiting PI3K/AKT/mTOR and STAT3 signaling pathways
The Monocarboxylate Transporter Family—Structure and Functional Characterization
2-Deoxyglucose and Newcastle Disease Virus Synergize to Kill Breast Cancer Cells by Inhibition of Glycolysis Pathway Through Glyceraldehyde3-Phosphate Downregulation
Effects of a Series of Acidic Drugs on L-Lactic Acid Transport by the Monocarboxylate Transporters MCT1 and MCT4
Sulforaphane induces apoptosis in human hepatic cancer cells through inhibition of 6-phosphofructo-2-kinase/fructose-2,6-biphosphatase4, mediated by hypoxia inducible factor-1-dependent pathway
A Glycolysis Outsider Steps into the Cancer Spotlight
Targeting the sugar metabolism of tumors with a first-in-class 6-phosphofructo-2-kinase (PFKFB4) inhibitor 
6-Phosphofructo-2-kinase/fructose-2,6-biphosphatase 3 and 4: A pair of valves for fine-tuning of glucose metabolism in human cancer
Small-molecule inhibitors of human LDH5
Novel drugs that target the metabolic reprogramming in renal cell cancer
Cancer metabolism: current perspectives and future directions
HIF-1α pathway: role, regulation and intervention for cancer therapy
mTOR as a central hub of nutrient signalling and cell growth
Metabolic Regulation of Immune Responses
Reprogramming glucose metabolism in cancer: can it be exploited for cancer therapy?
Role of Oncogenes and Tumor Suppressors in Metabolic Reprogramming and Cancer Therapeutics: A Review
Fermentation and anaerobic respiration
Anti-cancer agents counteracting tumor glycolysis
mTOR activation is a biomarker and a central pathway to autoimmune disorders, cancer, obesity, and aging
Targeting L-Lactate Metabolism to Overcome Resistance to Immune Therapy of Melanoma and Other Tumor Entities
Antimetabolic Effects of Polyphenols in Breast Cancer Cells: Focus on Glucose Uptake and Metabolism
Lactate and cancer: spinal metastases and potential therapeutic targets
Targeting immunometabolism as an anti-inflammatory strategy
Disclaimer
This site is not designed to and does not provide medical advice, professional diagnosis, opinion, treatment or services to you or to any other individual. Through this site and linkages to other sites, I provide general information for educational purposes only. The information provided in this site, or through linkages to other sites, is not a substitute for medical or professional care, and you should not use the information in place of a visit, call consultation or the advice of your physician or other healthcare provider. I am not liable or responsible for any advice, course of treatment, diagnosis or any other information, services or product you obtain through this site. This is just my own personal opinion regarding what we have learned on this road.
Please read an extended version of the Disclaimer here: https://www.cancertreatmentsresearch.com/?page_id=1794
Related Articles