Chronotherapy with Melatonin (night time anti-glycolytic)
Topic starter
07/07/2020 4:47 am
I have been wondering for quite some time about how circadian cycles could be added into the metabolic perspective. Normal cells behave in a highly regulated manner, while cancer cells can be highly chaotic. This could be a substantial difference that could be exploited.
Below article notes that melatonin has similar action to DCA. At night time melatonin downregulates glycolysis in cancer cells while upregulating OXPHOS. Specific, OXPHOS inhibitors against cancer cells could then be more powerful.   
http://www.melatonin-research.net/index.php/MR/article/download/44/364?inline=1
Yeah! The edit button has appeared! I was starting to wonder why I was the only person who did not have an edit button.
This topic was modified 3 years ago by
Jcancom
Topic starter
07/07/2020 4:55 am
I was only allowed to edit once. The url above also notes that there is a substantial decline in lactate through the day night cycle. (Perhaps melatonin supplementation could achieve similar effect during the day). A lactate monitor could be of particular importance to observe such a lactate decline and inform treatment options with OXPHOS inhibitors.
Topic starter
07/07/2020 5:20 am
This article could be of considerable clinical relevance. It is proposing that cancer is only a part-time disease. During its work day cancer cells labor away at being malevolent and nasty (using glycolysis), though once the bell goes off for the day cancer cells call it quits (revert to OXPHOS). It is remarkable that this observation had not been made earlier. As we (I) have often noted glycolysis is an especially treacherous, ancient and very primitive form of energy generation. Trying to counteract cancer's use of this pathway has not proven easy. However, OXPHOS is an entirely different mechanism. It is fairly complex and several cancer specific treatments have been created to inhibit it. This day/night cancer duality could be a great addition to the metabolic toolkit. Perhaps nighttime metronomic metabolic treatment using anti-OXPHOs therapy.  
@jcancom Hi J. This is very very interesting. Of course the article also speculates on various points but still very relevant. It would be interesting to see and experiment on the metabolism dynamics during the 24 hours. We could than probably be able to use chemo in a more effective way by targeting the point when glycolisis is at its maximum. It could also make more sense to have immuno-therapy at night when less acidity is produces.
Kind regards,
Daniel
Topic starter
08/07/2020 3:46 am
D, this is super exciting!!! I think a few exclamation marks are in order here! (Great point about the implications for immunotherapy.) This opens up an entire new field of metabolic research. It gives a potential new lever to control cancer. For years we wondered: How do you shut down cancer? Apparently this happens every night as a basic feature of the metabolic programming of the cell! Cancer cells break almost every rule yet they obey one of the most fundamental principles of human reality: the cycle of day and night. Cancer cells go to sleep when told! 
There are a range of possible treatment strategies that plausibly could be considered given this behavior of cancer. For example, perhaps nighttime feeding, nighttime metronomic anti-OXPHOS, further push down glycolysis with DCA, treating with anti-glycolytics at daily glucose max, cycled timed immunotherapy; wonder if cancer could be permanently put to sleep with mitomelatonin?; if cancer cells switch to OXPHOS at night then is this when they might be most likely to metastasize? If so, metronomic anti-OXPHOs at night could be an especially powerful treatment. ...  Metabolic thinking once again demonstrates its power to uncover important features of cancer pathology.
A great deal of research will be required to answer all of these questions. It highlights for me how much we are out on the edge of the known. Human trials to investigate these ideas probably could require decades (more likely they will never even be done). People who want a clear read out on large scale phase 3s might never receive the answers that they want (and need). This leaves us with only partial answers, a great deal of uncertainty, and intuition as our guide. Those on forum should recognize these opportunities, though also the risks.  
It is nonetheless always extremely surprising to me that such important knowledge had not been discovered previously. How could this possibly have not been known? More often than not when I read the literature I am more astonisched that the result was not already known than by the result itself. Posters on the forum were even close to discovering the lactate result. On the syrosingopine thread, a lactate monitor had been purchased and it was almost all set to have some lactate readouts. We were really that close to the research frontier that we could have made a substantial discovery in clinical oncology?
This is disappointing. The lactate strips only cost $1.78 each. Optimizing timing based on the melatonin research could represent a very large value gain for patients. Why not maximize the treatment response?
While it is still at the basic research stage, those on forum might want to consider purchasing one of these lactate devices. This would make for a great opportunity for some of our own basic research on the forum. In the mice there was a 65% top to bottom decline in lactate levels over the 24 hour cycle (that is large!). It could take some effort (probably not that much), though it is quite possible that we could magnify the metabolic effects reported in the article.
Bottom line message for patients: Embrace an elemental lifestyle that does not fight the day light cycle with nighttime lighting. When it gets dark, go to Bed! Melatonin is making you tired and signaling you to rest.
Topic starter
22/08/2020 11:57 pm
D in the last while I feel that I have finally been able to start to synthesize the metabolic results that we have long discussed. It has taken us years and years, though I think that we are definitely making progress.
Many of the posters focus in on a single protocol (e.g. FEN or vitamin C etc.). This is probably not a bad way to start off, though we both know that a more comprehensive strategy likely will be needed. After all this time we are seeing this comprehensive vision emerge. We are seeing how all the main variables that we talk about can be turned on or turned off with therapeutic effect. Turn on MCT-1, turn off MCT-1, turn on glycolysis, turn off glycolysis ... . We are acquiring a considerable amount of insight into how each of these components can be manipulated and how the components can fit into a larger strategy.
I remember on the compass when posters would start posting that we need to be careful about resistance -- what will we do about resistance. With the insights have we are developing into cancer resistance starts to be less scary. Resistance has the associated dread that now one has run out of options. Yet, as we have seen we can play any hand. 3-BP is effective with open MCT-1, yet open MCT-1 cancers have poor prognosis. IF 3-BP isn't effective, then is it really a bad thing? It means the tumor is less aggressive. I think that we had a whole list of things that manipulated MCT-1 levels.
Same with glycolysis. We could turn it up or turn it down and then have a strategy to take advantage of either outcome. Any references for pyruvate as an anti-cancer treatment? Almost any intermediate could have a therapeutic effect. Cut off OXPOS, and then treat with pyruvate? Where would the pyruvate go? I think that we might have discussed this topic before; there was some form of pyruvate that was found.
J
Topic starter
23/08/2020 12:07 am
More metabolism-- thiamine and cancer. Another PDK inhibitor along with DCA and melatonin? Thiamine has quite a few metabolic functions. Article also speaks of how Asians and Africans have high thiaminase, a natural thiamine-degrading enzyme, in their diets. The point is stressed that vitamins should not be automatically be assumed to be benign. In some circumstances even a B vitamin might have cancer promoting effects. 
https://cancerandmetabolism.biomedcentral.com/articles/10.1186/2049-3002-1-16#Fig4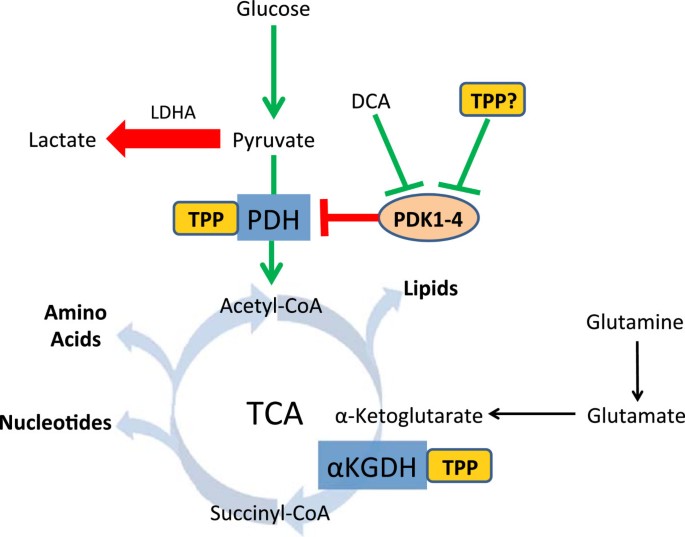 More metabolism-- thiamine and cancer. Another PDK inhibitor along with DCA and melatonin? Thiamine has quite a few metabolic functions. Article also speaks of how Asians and Africans have high thiaminase, a natural thiamine-degrading enzyme, in their diets. The point is stressed that vitamins should not be automatically be assumed to be benign. In some circumstances even a B vitamin might have cancer promoting effects. 

https://cancerandmetabolism.biomedcentral.com/articles/10.1186/2049-3002-1-16#Fig4
you bring up an important point, vitamins aren't always a good addition in cancer treatment.
For example, we already know that synthetic vitamin E can be cancer promoting but people now use vitamin E succinate and there's quite a bit of research on its anticancer potential.
I still don't like it. 
What do you make of this:
Cancer-Derived Succinate Promotes Macrophage Polarization and Cancer Metastasis via Succinate Receptor
https://www.sciencedirect.com/science/article/abs/pii/S1097276519308019
Topic starter
23/08/2020 2:34 am
Yeah! The article I posted previously about the metabolism of thiamine was from the journal ah Cancer and Metabolism. It sort of gives away right there an entire journal that discusses Cancer and Metabolism. Sounds great! This is gold!
These articles open up an entirely new metabolic landscape. We have mostly stuck with the central biochemical pathways of glycolysis etc.. Some of these articles start reaching deeper into the metabolic network. This one looked at NAD+ chemistry from an off-glycolysis perspective. Here they used FK866 to inhibit NAMPT. Bottom line when they did this the central result for 2 different cancer cells was addiction to LDHA production of NAD+. This research would allow us to step deeper into pathways and possibly magnify some of the treatments that we have examined. For example, I would be interested to see how this might combine with syromet.
Driving cancer cells down predefined metabolic alleys (secondary biochemical branches) could be of significant value. Here again we see that ultimately when cancer is driven down an alley it will wind up back on one of the main highways that we are always discussing without limits. The confusion and uncertainty of cancer begins to resolve: almost no matter what metabolic path you stress, you are going to wind up back somewhere very familiar. Resistance does not need to imply that tumors can achieve escape. As we see here the cancer cells were unable to escape treatment their only escape route was to break into jail! Basic strategy might then be to treat with one of these secondary pathways to drive it into the open and then once tumor addiction has occurred to treat with a closer such as syromet.
So the idea is drive addiction on a secondary pathway to flush out to one of a handful of main processes (i.e., e.g. glycolysis), then treat with a generic therapy for the win.     
https://cancerandmetabolism.biomedcentral.com/articles/10.1186/s40170-018-0174-7