Potentiation of immunotherapy
Topic starter
22/02/2020 8:29 pm
Hello, my wife has finished the radiotherapy sessions. As for the pain, it was a success because the pain in the lumbar zone and that runs through both legs has disappeared.We are going to start with Lenvima+pembrolizumab immunotherapy which is already approved in the USA for advanced endometrial cancer, but not in Europe. I am enclosing the protocol to try to maximize its effect and please feel free to make any suggestions. You may notice that a compound called Maraviroc is missing but I am having difficulty getting it.There's a part missing which is the endovenous and hyperthermia treatment and the immune system enhancer, I'll put it in now
Topic starter
22/02/2020 8:48 pm
well here is the rest of the supplementary treatment, i expect replacements from all of you who participate in this great forum. thanks for your help and opinions
Dear Marcos,
I have to congratulate you, the treatment is spectacular, well thought and structured. I am very glad for you, I am completely sure that all your efforts will be compensated!
Is zoledronic acid intravenous? how many iv do you combine on the same day with chemo in low doses?
A hug
Hello, my wife has finished the radiotherapy sessions. As for the pain, it was a success because the pain in the lumbar zone and that runs through both legs has disappeared.We are going to start with Lenvima+pembrolizumab immunotherapy which is already approved in the USA for advanced endometrial cancer, but not in Europe. I am enclosing the protocol to try to maximize its effect and please feel free to make any suggestions. You may notice that a compound called Maraviroc is missing but I am having difficulty getting it.There's a part missing which is the endovenous and hyperthermia treatment and the immune system enhancer, I'll put it in now

 
Hi Marcos,
It's great to hear your wife's pain is gone! The approach looks good indeed. I will look more carefully as soon as possible. For now, the only question/remark I have is: is there any reason why not considering a NaBicarbonate IV prior to Keytruda? What is the dose of keytruda you are going to use? 3mg/kg 2x/month?
Kind regards,
Daniel
Topic starter
23/02/2020 6:29 pm
Hi Daniel, thanks for your quick answer, the dose will be approximately 3 mg/kg but every 21 days, I can't do anything at that point, it's a question of hospital protocol, I have considered IV bicarbonate of soda, and I think I will apply it in the end, what happens is that the volume of IV treatments is very large, I would like to be able to obtain Maraviroc, I don't know if it will be possible.
Topic starter
23/02/2020 6:35 pm
Hello Manuel if the zoledronic acid will be intravenous but only every six weeks instead of every four there are already studies that show that it is equally effective but has fewer side effects, IV treatments are week to week, vitamin c 3 days of a week, 2 DG other 3, low dose chemotherapy another three and IL-2 and taurolidine is the only problem the protocols are complicated and very intensive.
Alternatively, you could think of using the alkalizing tablets like Basentabs?
Kind regards,
Daniel
Topic starter
23/02/2020 7:16 pm
Hello Daniel, the dose of sodium bicarbonate intravenously is 800 mg / kg per day for my wife's case would be 44 grams of sodium bicarbonate, I hope that the intracellular pressure that will put on the tumor the intracellular acidification medications can reduce a little this dose because otherwise I would have to put an elastomeric pump.
HI Marcos,
I think that is a lot. We used to use about 50 to 100ml NaBic (Sodium Bicarbonate) available at pharmacies at 8.4% NaBic solution. (see photo below) Given in about 1h.
So 100ml would contain 8.4g NaBicarbonate.
Kind regards,
Daniel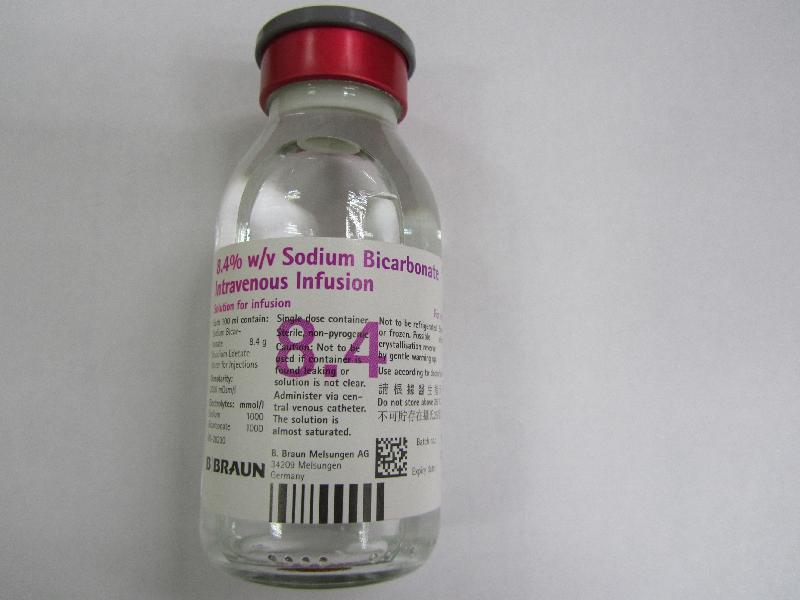 Topic starter
23/02/2020 10:15 pm
Hi, Daniel. I got this dose from the Pylon-THomas study.
Neutralization of tumor acidity improves anti-tumor responses to immunotherapies. https://www.ncbi.nlm.nih.gov/pmc/articles/PMC4829106/ .
According to the study, the dose administered in mice would be equivalent to 800 mg/kg per day in humans
if not wrong that study dose is oral not iv.
also, in mice in-vivo research there are no safety constraints. 
All the best.
Ok, I see:
"We have calculated from these mouse studies that the human equivalent dose would be bicarb at 800 mg kg−1 d−1. This dose is clinically achievable, and early phase 1 clinical trials of bicarbonate therapy have been conducted. Buffer therapy is a direct targeting of the tumor pH, but there are alternative, pharmacological approaches that may indirectly induce achieve compensated metabolic alkalosis, such as K-sparing diuretics (furosemide), or pan-specific carbonic anhydrase inhibitors (acetazolamide). Although experimental, other approach could target the rate of tumor acid production, through either isoform-specific CAIX inhibitors (DH-348), or inhibition of LDH-A (FX-11). The ability of these agents to neutralize tumor pH is not known, nor are their effects on anti-tumor immune therapy."
However, you are using the others such as Amiloride, Acetozolamide, etc., so increasing Bicarbonate at the same dose as in the paper may be too much and dangerous. I would probably go with max half of that.
Kind regards,
Daniel
Topic starter
24/02/2020 1:35 pm
thank you daniel i was planning to do that,because amiloride +lansoprazole+acetazolamide+liposomal quercetin will already put enough stress on the intracellular alkalization.only i am concerned about the interaction with aspirin both amiloride and acetazolamide,it will be necessary to separate them as much as possible,i have to be very careful and at the same time not to fall short,i am a bit nervous about this.
kind regards
marcos
Topic starter
25/02/2020 7:06 pm
I have been observing the action of gamma interferon in the potentiation of anti PD-1 therapy, the number of patients is reduced but the result seems acceptable in terms of increased pdl-1 and t-cells infiltrating the tumor.
Systemic Interferon-γ Increases MHC Class I Expression and T-cell Infiltration in Cold Tumors: Results of a Phase 0 Clinical Trial
Your protocol looks great. This is coming late, but I have a contact in India I have been sourcing Maraviroc from for six months or so. I can pass on his info if you or anyone else is looking for it.
Best wishes,
Anna