Nant 'vaccine.'
Dr. Patrick Soon-Shiong presented evidence at SITC
In both the triple negative breast cancer and head and neck squamous cell carcinoma trials patients had failed four to six lines of therapy. Three of eight experienced irPRs (- 70-100% reductions) and another three had irSD (two having shrinkage of between 21-49%).
In the metastatic pancreatic group all had failed at least three lines of therapy. Currently, less than 20% of patients goes on to receive third-line systemic therapy https://www.clinicaltherapeutics.com/article/S0149-2918(15)00154-X/fulltext Such patients have a median survival of 1-4 months. Nine out of ten treated had irSD (with three having shrinkage of between 6-27%). The median survival of the group is 9.5 months with a number continuing treatment.
Here is one patient with head and neck cancer who had a 100% reduction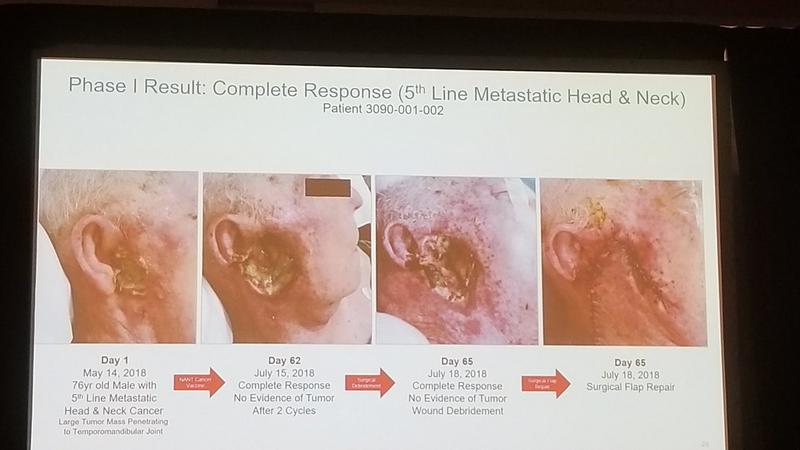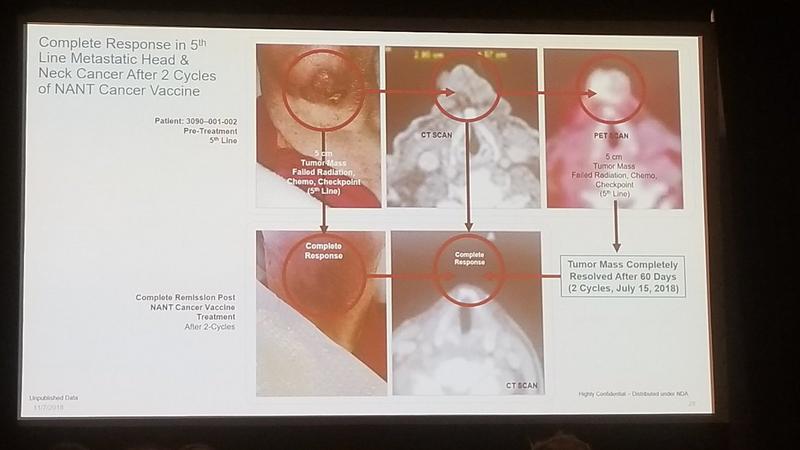 Here is a link to the trials https://clinicaltrials.gov/ct2/results?term=QUILT&Search=Apply&recrs=b&recrs=a&age_v=&gndr=&type=&rslt=
This can be improved upon. For the two vaccines, it makes sense to target neoantigens as well as cancer stem cells. Then, using IL-15/TGFB instead of just IL-15 http://www.bloodjournal.org/content/126/23/3421 Also adding on RP-182 http://cancerres.aacrjournals.org/content/76/15_Supplement/PR03 (in some cases) NEO-201 http://cancerres.aacrjournals.org/content/77/13_Supplement/3025 https://www.frontiersin.org/articles/10.3389/fimmu.2017.01899/full and Nab-5404 http://cancerres.aacrjournals.org/content/69/2_Supplement/2138
All of the above are in the Nant pipeline.
Some new data:
''Results: 8 subjects with 3rd-line or greater TNBC have received at least 3 treatment cycles (mean = 6 cycles). All treatment was administered in an outpatient setting. All subjects had at least 1 grade ≥3 TRAE, primarily chemotherapy-related neutropenia. Grade ≥3 haNK-related AEs (fever and fatigue) were observed in 2 subjects. 2 subjects experienced SAEs. 7 subjects remain alive, with 6 subjects receiving ongoing study treatment. 1 CR (confirmed) and 2 PRs (one confirmed) have been observed to date. Conclusions: These preliminary data suggest that low-dose chemo-radiation combined with innate and adaptive immunotherapy can be administered safely in an outpatient setting with a manageable safety profile'' http://abstracts.asco.org/239/AbstView_239_271607.html
''Results: 12 subjects with 3rd-line or greater metastatic pancreatic cancer were treated. All treatment was administered in an outpatient setting. AEs were primarily hematologic and managed by planned chemo dose reduction. Grade ≥3 TRAEs were observed in 9 out of 12 subjects, predominately chemotherapy-related neutropenia. 9 out of 12 subjects (75%) had a best response of stable disease (≥ 8 weeks). Median PFS is 7.1 months (4.4 – 8.8) and median OS is 8.2 months (5.7 – 9.7) with 1 subject continuing treatment'' http://abstracts.asco.org/239/AbstView_239_270711.html