Dear Friends,
We are going through some important challenges as Coronavirus (COVID-19) spreads across the world. It seems that many of us may need to deal with Coronavirus at some point so it makes sense for us to be ready and have knowledge on relevant approaches to help our body fight that, in case this will be needed. Since many of us here have good research skills as well as good knowledge and understanding of the cellular mechanisms and drugs & supplements that can modulate those mechanisms, it is a good idea to start applying that knowledge on Coronavirus  subject in order to find as many solutions with potential as we can.
If you like that idea, please join me and share here your findings. We will first start creating a list (that will be continuously updated) with supplements and drugs that have potential as stand-alone treatment, and in the second part we can create a list of cocktails of drugs and supplements that can work well together to fight Coronavirus. This doesn't mean that the scope of this website changes. But it's a good chance for us to contribute to life by doing this type of work, finding and creating awareness on potential options.
Interestingly, as you will see below, most antiviral drugs and supplements are known as drugs and supplements that stand out in the fight against cancer.
Here is a good overview on the Curent COVID-19 situation: https://www.covidgraph.com/p/coronavirus.html
Drugs and Food Supplements
Hydroxychloroquine (Plaquenil)
Whats is this: Hydroxychloroquine (brand name Plaquenil) is an anti-malaria drug. It is typically used by those travelling to countries with malaria risk. I think in some countries this may even be an over the counter drug. It should be available in most of the countries and cheap. Therefore, it should be accessible for most of the people. This drug has also important potential against cancer and it has been discussed here in more details. Note that Hydroxychloroquine is the name for the active ingredient. Just Google this and you will find various Brand names that may be available in your country or at online pharmacies.
Why it has potential: Recent research indicates it has good potential against Coronavirus:
Remdesivir and chloroquine effectively inhibit the recently emerged novel coronavirus (2019-nCoV) in vitro – this study was published very recently (February 2020) and indicates that chloroquine functioned at both entry, and at post-entry stages of the 2019-nCoV infection. In addition to this antiviral activity, chloroquine has an immune-modulating activity which may work in synergy with its antiviral activity. "it is postulated that chloroquine works by altering ACE2 glycosylation and endosomal pH. Its anti-inflammatory properties may be beneficial for the treatment of SARS." (Ref.)
Coronavirus puts drug repurposing on the fast track – a Nature publication at the end of February 2020 indicates that Chloroquine or hydroxychloroquine has been selected for clinical trials in patients infected with Coronavirus
In Vitro Antiviral Activity and Projection of Optimized Dosing Design of Hydroxychloroquine for the Treatment of Severe Acute Respiratory Syndrome Coronavirus 2 (SARS-CoV-2) – a publication from March 2020 indicating that Hydroxychloroquine was more potent than Chloroquine. The publication further proposes the following treatment schedule: "a loading dose of 400 mg twice daily of hydroxychloroquine sulfate given orally, followed by a maintenance dose of 200 mg given twice daily for 4 days is recommended for SARS-CoV-2 infection". Typically, the pills have 200mg. That means 2 pills 2x/day first day, followed by 2 pills/day during the coming days.
As discussed many years ago on this website Hydroxychloroquine is a Zinc ionophore (binds Zing and facilitate the entrance of that inside cells). Combining Zinc with Zinc ionophores such as Hydroxychloroquine has been used successfully against tumors (Reference). There are various discussions and suggestions at this point indicating that the major anti-viral action of Hydroxychloroquine against COVID-19 is related to it's ionophore action. If that is the case we could use other drugs against COVID that have the Zinc ionophore capability, such as Disulfiram and food supplements such as Quercetin (onion extract) and EGCG (green tea extract).
Update March 18th: since I published this article a few days ago, it becomes more and more clear that Hydroxychloroquine has the potential to save a lot of life. Here is a recent Youtube from a Franch scientist discussing these aspects as well as the increase in bennefits when combining Hydroxychloroquine with the anti-biotic Azithromycin https://www.youtube.com/watch?v=ydcrROJFEU0 In this case, patinets received 600mg Hydroxychloroquine (200mg 3x/day) and azithromycin (500mg on day 1 followed by 250mg per day, the
next four days) to prevent bacterial super-infection (Ref.) A few patients did not responded to Hydroxychloroquine and the authors expect this was because of the way Hydroxychloroquine was metabolised in those patients as two patients were mother and child not responding.
Update July 28: "Hydroxychloroquine+azithromycin has been widely misrepresented in both clinical reports and public media … These medications need to be widely available and promoted immediately for physicians to prescribe." (Ref.)
How to take: According to the above paper it can work both prior to and also after the virus entered the cell. First day it is taken 400mg 2x/day, and the coming 4-9 days we take 200mg/day.
Note: both Azithromycin and Hydroxychloroquine are associated with QT prolongation, caution is advised if considering use of both drugs in pts at risk for QT prolongation or receiving other drugs associated with arrhythmias and in those with chronic medical conditions.
Vitamin C
What is this: we all know what this is. Vitamin C has also been discussed here as a cancer treatment option.
What is the potential:
Sepsis was the most frequently observed complication in Coronavirus patients due to a pro-inflammatory responses of the immune system (Ref.)
When the immune systems acts in a pro-inflammatory way, the immune cells are overactive and for that they need to up-regulate glycolisis (fermentation) (Ref.)
Vitamin C inhibits glycolisis (fermentation) (Ref.)  Here is a longer list of similar inhibitors (Ref.)
Based on the above, Vitamin C can inhibit fermentation required for the immune cells to be overactive, and as a result inhibit pro-inflammatory activity of the immune cells that can trigger sepsis
In addition, during the replication, viruses create ER-stress (Ref.)
And since as discussed above Vitamin C inhibits glycolsis required during viral replication and ER-stress, Vitamin C has an anti-viral activity
Indeed, here is a clinical study on 463 patients showing that mega-doses of Vitamin C administered orally (6 grams/day) could reduce or inhibit the symptoms caused by viral infection responsible for the common flu (Ref.)
In addition, Vitamin C improves survival rate in sepsis and acute respiratory distress syndrome (ARDS) (Ref.)
How to take: According to the above paper, I would take 6 grams/day (one every hour) in the first few days when symptoms are apparent and after that reduce the dose as symptoms go away. Note: high dose Vitamin C may induce diarrhoea in some people – if that is the case, I would spread the 6g over more than 6 hours. I would take both normal Vitamin C and if possible liposomal Vitamin C. If possible, from time to time, I would even go for an intravenous high-dose Vitamin C.
Niclosamide
What is this: Niclosamide is an over the counter antihelminthic drug used to treat intestinal worm infections. However, Niclosamide has also been shown to have strong anti-cancer potential and it has been often discussed on this website. It is a drug that is relatively cheap and can be found at online pharmacies or even on eBay. It should be easily accessible.
What is the potential:
Recently, niclosamide has been identified as an effective antiviral agent against a number of pH-dependent viruses, such as human rhinoviruses and influenza virus, severe acute respiratory syndrome-coronavirus, Chikungunya virus, and flaviviruses (Ref.)
Niclosamide treatment was observed to completely inhibit viral antigen synthesis. Reduction of virus yield in infected cells was dose dependent (Ref.)
"Of particular note, the licensed drug niclosamide, a treatment for tapeworms that had previously been identified as an SKP2 inhibitor, was shown to be capable of drastically reducing the replication of the MERS virus in cell culture." (Ref.)
effective against various viral infections with nanomolar to micromolar potency such as SARS-CoV, MERS-CoV, ZIKV, HCV, and human adenovirus (Ref.)
How to take: I would probably take 2g/day (maybe even higer dose if the issue is more severe). The capsules available are those type that can be dissolved in the mouth, so they are perfect for addressing the throat infections. The typical bio-availability of this drug is low but this is not an issue since here it can address the throat infections directly as they are dissolved.
Thalidomide
What is this: a FDA approved drug. Please see the story of Thalidomide here (Ref.) This drugs may be a little more challenging to obtain but still possible. It is more expensive in western countries and 10x cheaper in other countries.
What is the potential:
To my knowledge, Thalidomide has been first proposed as an effective solution against Coronavirus by Dr. Hada on January 31st this year, exactly here in cancertreatmentsresearch.com, and our community is honoured by that (Ref.) Please read his comment here.
Indeed, on February 26th, nearly one month later Chinese doctors reported that they succeed to save the life of one Coronavirus patinet using Thalidomide: "Thalidomide Combined with Low-dose Glucocorticoid in the Treatment of COVID-19 Pneumonia"
The above great results are expect to be related to the anti-inflammatory of Thalidomide, by inhibiting the cytokine surge and regulating immune functions.
How to take: In positive case report above, the Chinese doctors gave 100mg Thalidomide every 24 hours, combined with with low-dose glucocorticoid. The patient started to immediately improved, already with the day 1 after administration of Thalidomide.
Quercetin
What is this: Quercetin is an extract found in many fruits, vegetables, leaves, seeds, and grains and in high amounts in onions. It can be found at online shops as food supplement in capsules such as e.g. 500mg/capsule, and is relatively cheap. Next to extracts such as Curcumin, Green tea extract, Berberine, Quercetin is one of the most relevant natural extracts in the fight against cancer (Ref.) as well as auto-immune disease and allergic reactions (Ref.).
What is the potential:
Quercetin has important anti-viral (Ref.1, Ref.2, Ref.3, etc.) activities as well as anti-inflammatory (Ref.), both of which aspects are very important in prevention and/or treatment to reduce potential lethal mechanisms in Coronavirus infected patients.
Quercetin has already proven successful at treating Ebola and Zika viruses and researchers in Québec believe it could prove effective against COVID-19 (Ref.). The Foundation of the Montreal Clinical Research Institute (IRCM) anounced a $1 million contribution from the Lazaridis Family Foundation to support research led by the researchers in Québec on the antiviral drug isoquercetin (Ref.)
Quercetin makes very much sense to use as is a MCT (1-4) inhibitor which as a result inhibits fermentation and in turn inhibits viral replication, due to similar mechanisms as discussed in the Vitamin C section above
Quercetin is also a Zinc ionophore (please see the discussion on ionophore in the Hydroxychloroquine section)
How to take: In the preventive phase, I would take 1g/day and for active disease I would take 3g/day. If possible, such dose as 3g/day should be increased step by step. On this line, eating (not cocked) onion should also have some preventive role due to the high Quercetin content.
Scutellaria baicalensis
What is this: Scutellaria baicalensis, also called Chinese skullcap, has been widely used as a medicinal plant in China for thousands of years. This plant is available online as a food supplements and is relatively cheap. This is one of my favourite plants in fighting cancer (Ref.) and it is known to exhibiting many biological activities, including antibacterial, antiviral, and/or anti-inflammatory properties (Ref.).
What is the potential:
Scutellaria baicalensis extracts are known to have antiviral activity (Ref.) and specifically against SARS coronavirus (Ref.)
For some viral infections, Scutellaria baicalensis exerted more potent antiviral effects compared with ribavirin in a clinical trial (Ref.)
Baicalin from Scutellaria Baicalensis blocks viral infection and reduces inflammatory cell infiltration and lung injury (Ref.)
How to take: I would take 3g/day Scutellaria baicalensis. Capsules of 500mg Scutellaria baicalensis are available as food supplement online.
N-acetylcysteine (NAC)
What is this: over the counter food supplements used to treat acetaminophen poisoning. Cheap and available everywhere. It is also used as a mucus thinner to help reduce bronchitis exacerbations. 
What is the potential:
It has antiviral action: In a clinical study enrolling 262 patients, those receiving NAC experienced significantly fewer influenza-like episodes and days of bed confinement – only 25% of the virus-infected subjects in the NAC group developed symptoms, as contrasted to 79% of those of placebo (Ref.)
Due to the anti viral and anti-inflammatory action of NAC, it has been recently proposed that this should be used as a part of a strategy to help provide relief in those infected with COVID-19 (Ref.)
How to take: I would take 600mg 2x/day. Available as food supplement online.
Arbidol (Umifenovir)
What is this: a Russian drug no used (in Russia and China) to treat influenza A and B, acute respiratory viral infections, severe acute respiratory syndrome (including complicated by bronchitis, pneumonia); secondary immunodeficiency states; complex therapy of chronic bronchitis, pneumonia and recurrent herpetic infection. 
What is the potential:
Several in vitro studies indicate that Arbidol possesses inhibitory effect on coronavirus (Ref.)
A retrospective case-control study from China indicating that Arbidol could reduce the infection risk of the novel coronavirus in hospital and family settings (Ref.)
Clinical trials on the efficacy of Arbidol on COVID-19 are ongoing
How to take: the positive case report cited above states that the typically used 200mg, three times a day, 5-10 days. The cost/box in Russia seems to be at about 25USD for a box of 10x200mg capsules. 
Glycyrrhizinate (Licorice)
What is this: Glycyrrhizinate is the major active component of licorice root extract, an ancient medicinal plant sometimes also used as alternative cancer treatment. Licorice can be found as a food supplement at shops on-line. 
What is the potential:
Has been employed against coughs and colds for long time in traditional Chinese medicine as well as to settle disturbed digestion and has anti-inflammatory activity
One German study reports in 2003: "Of all the compounds, glycyrrhizin was the most active in inhibiting replication of the SARS-associated virus. Our findings suggest that glycyrrhizin should be assessed for treatment of SARS" (Ref.)
How to take: The clinical trials gives Diammonium Glycyrrhizinate Enteric-coated Capsules (oral, 150mg, Tid), Vitamin C tablets (oral, 0.5g, QD). That means 450mg Glycyrrhizinate/day and 2g Vitamin C/day. Glycyrrhizinate capsules are available in China only. As an alternative to that, I would use licorice root extract supplements since they contain high amount of Glycyrrhizinate. Glycyrrhizin, glycyrrhizic acid, and glycyrrhizinate amount to 10% to 25% of the root extract (Ref.). Assuming 10% Glycyrrhizinate, in order to achive the dose used in the clinical trial we would need to use about 5g Licorice root extract/day. This seems safe, given that Licorice root has been used in daily doses from 760 mg to 15 g for ulcer and gastritis (Ref.).
Melatonin
What is this: a hormone that regulates the sleep-wake cycle. Can be found as food supplement online and it is currently used by many as an anti-cancer and anti-inflammatory treatment.
What is the potential:
has been found to be effective in fighting viral infections in a variety of experimental animal and in vitro studies (Ref.) and has been proposed even as an anti sepsis treatment (Ref.)
suppresses TLR9-triggered proinflammatory cytokine production, inhibiting the of upregulation of TNF-α, IL-6, IL-12 p35, IL-12 p40 and IL-10 mRNA expressions, thus regulating TLR9-mediated innate immune responses (Ref.) TLR9-mediated innate immunity and inflammation plays important roles in infectious diseases, autoimmune diseases and cancer (Ref.)
a very recent scientific study (March 2020) suggesting Melatonin as a potential anti-COVID-19 drug (Ref.)
How to take: available online as capsules of 1,3,5,10,20mg. In some countries it is not allowed to be sold in capsules >5mg as it is seen as a hormone. Nevertheless cancer patients are using even 200mg/day (of course they do not start with this but they move up step by step to this dose). Nevertheless, I would use probably 5mg before sleep as a prevention and 20mg/day or more before sleep when fighting corona. Our body, also produces Melatonin. Better quality sleep promotes the secretion of Melatonin. To improve this quality and have higher levels of Melatonin produced, I would block out all distracting noise and eliminate as much light as possible, including the stand-by light from electronic devices.  
Coconut (Lauric acid/Monolaurin & Capric acid/Monocaprin)
What this is: Lauric acid  is a medium-chain fatty acid which makes up about 50% of coconut oil, and Monolaurin is a metabolite that is naturally produced by the body's own enzymes upon ingestion of coconut oil and is also available in pure form as a supplement. Capric acid amkes up about 5%-10% of coconut oil.
What is the potential: 
Lauric acid/Monolaurin & Capric acid/Monocaprin have anti viral action (Ref.1), anti-bacterial (Ref.1, Ref.2), and anti-cancer (Ref.) action. The anti-viral action is addressing the following:
How to take: The clinical trial proposal: 3 three tablespoons of Virgin Coconut Oil, daily or higher and/or Monolaurin (95% purity, 800 mg daily) and/or Monocaprin (95% purity, 800 mg daily) (Ref.). Even better, if infected, I would eat one coconut/day, or at least half of it.
Camostat and Nafamostat 
What is this: Japanese drugs approved for the treatment used for e.g. treatment of chronic pancreatitis or postoperative reflux esophagitis. Camostat (brand name Foipan) is an oral drug and Nafamostat (brand name Fusan) is an intravenous one.
What is the potential: 
In order to enter the cell Coronavirus first attaches itself to ACE2 receptors. However, for this to happen, another element is required called

TMPRSS2

In 2016, a Japanese team discovered that Nafamostat effectively inhibits SARS-CoV effective connection with the cell membrane by inhibiting 

TMPRSS2

(Ref.)
On March 3 2020, German scientists reported that by inhibiting

TMPRSS2

, Camostat (a drug similar to Nafamostat) blocks the entry of SARS-CoV-2 virus into the cells (Ref.)
Even more recently, during March 2020, it has been reported that Japanese scientists tested Nafamostat in SARS-CoV-2 and that it may inhibit the infection of cells by COVID-19 at a doses that is less than one-tenth that needed for Camostat to achieve the same (Ref.). Nevertheless, the advantage of Camostat is that is an oral drug.
Therefore, Camostat or Nafamostat could be two different drugs that can be used for the prevention and spread of the viral infection alone or in combo with other drugs such as Hydroxycgloroquine.
How to take: The typical dose of Camostat for chronic pancreatitis is 600 mg daily, for postoperative reflux esophagitis 300 mg are taken. The daily dose is split in 3 doses and taken after each meal. (Ref.)
Ivermectin 
What is this: this is a drug used both in humans and animals with an established safety profile for human use, approved by FDA for various  parasitic infections (as a side note, this drug is known to have broad anti-cancer activity (Ref.)). This is a cheap and easy to access drug.
What is it's potential:given 
On April 3rd 2020, Australian researchers reported that (Ref.):

Ivermectin is an inhibitor of the COVID-19 causative virus (SARS-CoV-2) in vitro 
A single treatment able to effect ∼5000-fold reduction in virus at 48h in cell culture.
How to take:
a recent systematic review, including a meta-analysis, has shown that adverse effects following single-dose treatment with up to 0.8 mg/kg of Ivermectin occur without significant differences of frequency or intensity to those at regular currently approved doses (Ref.)
here is a paper published in The Lancet in 1994, where patients have been treated with Ivermectin doses up to 1.6mg/kg given as subsequent injections at weekly or biweekly intervals. " No clinical adverse effects were noted in any of the patients, including the one who received ivermectin for 12 weeks. In fact, many reported improved sleep, less depression, and better bowel and bladder function during the trial." (Ref.)
based on the above, taking a single dose of up to 56mg for a person of 70kg (i.e. 0.8 mg/kg) is expected to be safe and may be effective against COVID
however, note that this is still a high dose – this is why I would start with a lower dose to test the reactions, and I would increase the dose towards the target 56mg if no adverse reactions are experienced. A dose that is typically used is 0.2mg/kg and this should be safe to start with (Ref.).
Update April 22nd: 
Usefulness of Ivermectin in COVID-19 Illness: The administration of ivermectin during COVID-19 illness in hospitalized patients is associated with a lower mortality and hospital length of stay. These findings require confirmation in randomized controlled trials.
Update July 29th:
Nitazoxanide
What is this: an antihelminthic drug used to treat intestinal worm infections, structurally similar to Niclosamide. This is a cheap and easy to access drug.
What is it's potential:
inhibits the replication of a broad range of other RNA and DNA viruses including respiratory syncytial virus, parainfluenza, coronavirus, rotavirus, norovirus, hepatitis B, hepatitis C, dengue, yellow fever, Japanese encephalitis virus and human immunodeficiency virus in cell culture assays (Ref.)
Suppresses production of proinflammatory cytokines – suppresses IL6 in mice (Ref.)
How to take: Dosages investigated for treatment of influenza and influenza-like illness or being investigated for other viral infections: Adults and adolescents: 500 or 600 mg orally twice daily for 5 days (Ref.). 
Dipyridamole
What is this: an FDA approved drug that inhibits blood clot formation and causes blood vessel dilation when given at high doses over a short time.  Its a safe drug with favorable and broad pharmacological properties. The relevance of this against COVID-19 was brought to my attention in a private discussion with Jane McLelland who specifically likes this drug for it's anti cancer activity. This is a cheap and easy to access drug.
What is it's potential:
antiviral activity was previously demonstrated against Herpes simplex virus, Mengovirus RNA replication, human immunodeficiency virus (HIV) and prevented Epstein-Barr virus reactivation (Ref.)
it has been used successfully in several COVID19 patients in China: "Two weeks after initiation of dipyridamole treatment, 3 of the 6 severe cases (60%) and all 4 of the mild cases (100%) were discharged from the hospital. One critically ill patient with extremely high levels of D-dimer and lymphopenia at the time of receiving DIP passed away. All other patients were in clinical remission." (Ref.)
in April this year another (preprint) paper indicated that "molecular docking reveals the potential of dipyridamole to inhibit COVID-19 virus main protease (Ref.)
How to take: in the above case report The daily treatment protocol comprised of 150 mg in 3x/day for seven consecutive days, next to the typical anti-viral treatment including Ribavirin, corticoids and oxygen therapy (Ref.)
Vitamin D
What is this: Vitamin D, also found as a food supplement,  is a hormone precursor produced by our own body with the help of sunlight which has an important role on adaptive immunity and cellular differentiation, maturation and proliferation of several immune cells.
What is it's potential:
How to take: In the above clinical trial, they are going to use 25000 UI of vitamin D/day. Vitamin D supplementation will be taken in the morning together with a toast with olive oil to facilitate its absorption.
Others to be discussed:
Colloidal silver, Zinc, Sambucol, Omega‐3 (Ref.), Selenium (Ref.), Berberine, Aspirin (Ref.), Metformin, Oregano Oil, Description
Indometacin (Ref.), Artemisia Annua, Olive Leaf Extract, Probiotics (Ref.), Alpha Lipoic Acid (Ref.), 2DG – all have potential in the fight against COVID.
How I would use the drugs and supplements listed above
(Assuming there is no medical assistance available)
As prevention, I would use
500mg Quercetin/day,
1g Scutellaria baicalensis,
3g Vitamin C (spread across the day),
NAC 600mg 1x/day
Good sleep and if required 5mg Melatonin before sleep
Selenium supplement (not discussed above yet)
Zinc supplements (not discussed above yet)
high dose Vitamin C from time to time if possible
I am still thinking of it makes sense to use Hydoxychloroquine as a prevention methoth (200 up to 400mg/day)
If flu-like symptoms, I would use the following:
500mg Quercetin/day,
3g Scutellaria baicalensis,
6g or more Vitamin C (spread across the day),
NAC 600mg 2x/day
Good sleep and 5mg Melatonin before sleep
5g/day licorice root as a food supplement
Selenium supplement (not discussed above yet)
Increase Zinc supplements (lozenges) (not discussed above yet)
high dose Vitamin C if possible, at least one time/week
Hydoxychloroquine 200mg/day
If Coronavirus infection confirmed:
3g/day Quercetin,
3-5g Scutellaria baicalensis,
6g or more Vitamin C (spread across the day),
5g/day licorice root as a food supplement
Selenium supplement (not discussed above yet)
Good sleep and 20mg or more Melatonin before sleep
Increase Zinc supplements (lozenges) (not discussed above yet)
high dose Vitamin C if possible, at least one time/week
Niclosamide 2g/day
Hydoxychloroquine 400mg 2x/day, and the coming 4-9 days we take 200mg/day
If symptoms increasing I would start Thalidomide 100mg/day
Cocktails of Drugs and Supplements
If you like the content on this website
Please consider making a donation to support the continuity of this work:
Or at least please give us a like on Facebook:
On Facebook since 2019

This message is only visible to admins.
Problem displaying Facebook posts. Backup cache in use.
Click to show error
Error: Error validating access token: The session has been invalidated because the user changed their password or Facebook has changed the session for security reasons. Type: OAuthException
Promotion: Please consider our Food Supplements Shop
MCS Formulas is a food supplement company founded by members of Cancer Treatments Research community. It's goal is to deliver value to the world in two major ways:
deliver some of the best product combination of Purity, Strength and Fair Price (as well as Compiled Packages). We often focus on single compounds and did the best to remove excipients, maximise active ingredients in a capsule, and increase bio-availability;


.

donate 50% of our profits to projects to accelerate the transfer of value from traditional medicine and/or academic space to clinical space, to enable new treatments for cancer patients. (We will use a third party audit to monitor that this is what we are going to do as soon as we will be able to do it.) The remaining 50% will help MCS Formulas to be healthy, grow, and be able to contribute more.
Below is an image that consolidates the value MCS Formulas delivers through its products and actions, which comes with TRUST and FAIRNESS.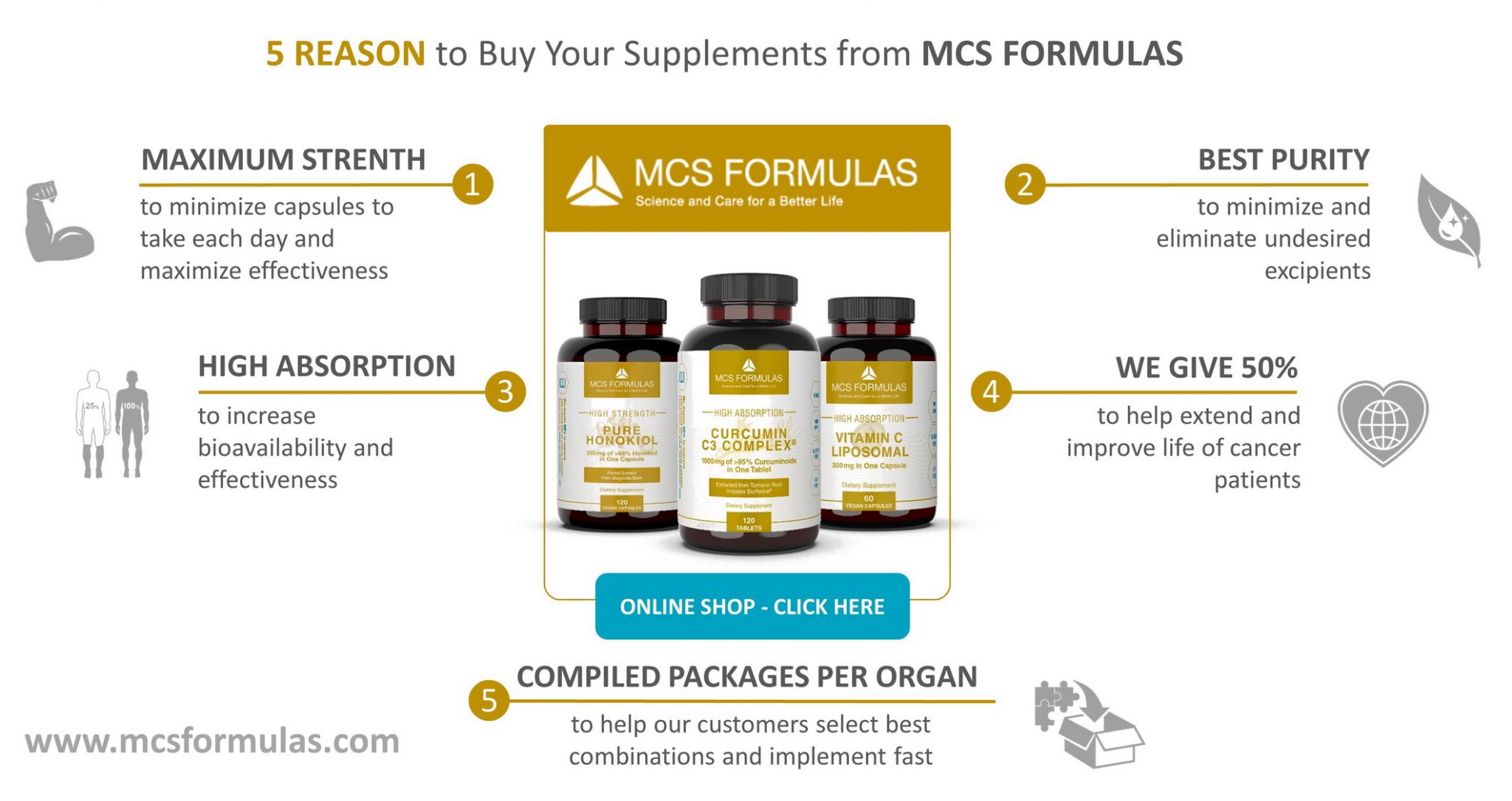 Important Notes
I would consider to hold or lower the use of ACE inhibitor drugs: A recent paper indicates that "ACE2-stimulating drugs increases the risk of developing severe and fatal COVID-19@ (Ref.) (Thank you Johan for heads up on this one.)
ACE inhibitors are a class of medication used primarily for the treatment of high blood pressure and heart failure. Frequently prescribed ACE inhibitors include benazepril, zofenopril, perindopril, trandolapril, captopril, enalapril, lisinopril, and ramipril. Here is a more extensive list of ACE inhibitors (Ref.)
The same paper (Ref.) states that there is no "evidence to suggest that antihypertensive calcium channel blockers increased ACE2 expression or activity, therefore these could be a suitable alternative treatment in these patients.". So doctors can switch their patients from ACE2-inhibitors to calcium-channel-inhibitors to address their heart-related challenges.
Keep yourself worm: cooler temperatures can enable replication of the common cold virus, at least in part, by diminishing antiviral immune responses. (Ref.) Drink hot tea often.
(This idea was "stolen" from Dr. Pavia Milfeldt Lumholt (Ref.))
Take Paracetamol (Acetaminophen) instead of Ibuprofen: Taking anti-inflammatory drugs such as ibuprofen and cortisone can worsen the infection in people who have become ill with the new coronavirus. That has been tweeted by the French Minister and the reason for that seems to be the fact that these drugs increase the ACE receptors on the uninfected cells, which in turn allows the COVID virus to get into the cells. (Ref.) The advise is a result of the information reported in this scientific publication (Ref.).
More Relevant Options
Other Important References
A new treatment strategy against MERS – Autophagy-inducing substances – including licensed drugs – were shown to be capable of reducing the viral replication rate. (Ref.)
Potential antivirals and antiviral strategies against SARS coronavirus infections
Screening of FDA-approved drugs using a MERS-CoV clinical isolate from South Korea identifies potential therapeutic options for COVID-19
Repurposing host-based therapeutics to control coronavirus and influenza virus
Biopharma products in development for COVID-19
Tranexamic acid: A potential treatment option for coronavirus disease 2019
Disclaimer
This site is not designed to and does not provide medical advice, professional diagnosis, opinion, treatment or services to you or to any other individual. Through this site and linkages to other sites, I provide general information for educational purposes only. The information provided in this site, or through linkages to other sites, is not a substitute for medical or professional care, and you should not use the information in place of a visit, call consultation or the advice of your physician or other healthcare provider. I am not liable or responsible for any advice, course of treatment, diagnosis or any other information, services or product you obtain through this site. This is just my own personal opinion regarding what we have learned on this road.
Please read an extended version of the Disclaimer here: https://www.cancertreatmentsresearch.com/?page_id=1794
Related Articles